By Davies Iheamnachor
PORT HARCOURT— FEAR has heightened in Rivers State communities following the order from the Inspector- General of Police, Ibrahim Idris, directing the police to retrieve arms from vigilante groups across the country.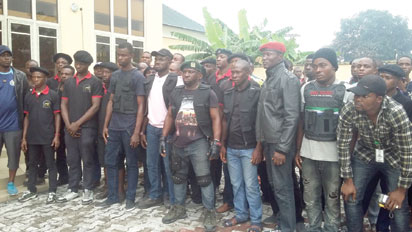 Already, the State Police Commissioner, Ahmed Zaki, has given 21 days ultimatum to all vigilante members in the state to surrender their arms or face arrest and prosecution if caught.
But communities prone to cult activities and armed robbery attacks have described the decision of IGP as ill-fated, stressing that they would be at the mercies of criminals.
A resident of Ihediohanma Street in Mile 2, Diobu, Port Harcourt City Local Government Area of the state, who simply gave her name as Ihuoma, told Niger-Delta Voice that the criminals in Diobu area are already preparing to resume their nefarious activities.
Ihuoma noted that the people of the area received the news of the IGP directive with shock, adding that the area may return to its past notoriety where crime was the order of the day if the directive is not reversed.
She said: "I will not believe that the police mean what they are saying. If they take guns from the vigilante groups, the bad boys that used to trouble us will all come back. We know what this place used to be when we had no vigilante group.
"Taking arms from them will mean that the vigilante will not function again. They are the people who chased criminals away from Diobu. They cannot face these criminals who are using guns with bare hands. Criminals will take over the place."
Also, Ibrahim, a resident of Gambia Street, said: "If the vigilantes go on strike, there will be problem because those criminals that the vigilante chased out will come back with full force to continue their activities."
We are going on strike- DVG
Meanwhile, Diobu Vigilante Group, DVG, has embarked on indefinite strike, following the IG's directive to retrieve their arms.
The group urged IGP Idris to also move to retrieve arms from the dreaded herdsmen, Boko Haram and militant groups, adding that the order would rupture the fragile peace in the state.
Speaking in Port Harcourt, the leader of Diobu Vigilante Group, DVG, Victor Ohaji, said the order would affect communities that are facing cult-related activities, describing the IGP's directive as anti-security.
He said: "It is not good for the vigilante groups to submit arms when we know that criminals in the state are armed with sophisticated weapons. It will affect security because we cannot go after criminals who have guns with stick.
"They that are giving this order have guns and security. It will affect common people who do not have money to provide security for themselves. They should also retrieve arms from herdsmen, Boko Haram and other criminal elements for us to have a crime-free nation."
Meanwhile, the secretary of DVG, Prince Amatari, has urged the IGP to review and reverse the order, adding that vigilante groups should be trained in security management and armed to support the police.
Amatari said: "We need training so that we can handle guns. Taking guns from us is to discourage us from providing security to our people. We want to work for our people. Police do not get to our rural communities; it is only vigilante that gives hope to them."
We do not use arms for criminality 
The Security Planning Advisory Council, OSPAC, a local vigilante group assisting in providing security at Ogba/Egbema/Ndoni Local Government Area of Rivers State said it does not use arms to kill or kidnap.
OSPAC has distanced itself from alleged involvement in criminal activities of extra-judicial killings and kidnapping.
It also raised alarm that some big wigs who sponsored the late Don Waney and killings in ONELGA are not tired of their activities, adding that they want to resume killings in the area.
OSPAC in a statement by its Chairman, Professor Maxwell Ahiakwo (Associate), regretted that those individuals are not happy with the security achievement in ONELGA, adding that they are using all means to discredit OSPAC to enable them resume killings in the area.
Ahiakwo noted that OSPAC was neither created to victimise any individual nor for political reasons, adding that all the security agencies are aware of its tremendous achievements since inception.
He said: "We are aware that the sponsors of Don Waney are still very bitter with OSPAC for leading the onslaught against the late notorious criminal and his gang.
"All the propaganda in the media are planted by the sponsors and disciples of Don Waney aimed at twisting the truth to deceive the public.  They want OSPAC to be proscribed and banned from operations so they can resume their carnage against the good people of ONELGA."
Ahiakwo, however, assured that OSPAC would remain focused in carrying out its responsibility of providing security and called for support from residents of ONELGA.