By Tony Nwankwo
Association of Ndi Eze Ndi Igbo Lagos State has faulted the process for the planned conduct  of Local Government and LCDA elections in Lagos State by the Nnia-Nwodo-led Ohanaeze Ndi Igbo Worldwide.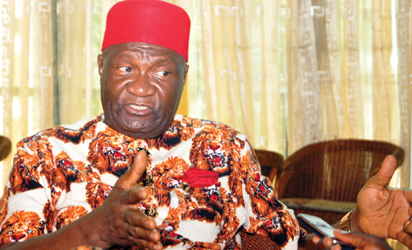 They cited irregularities in the process of Appraisal Forms collection and sales insisting that for authenticity and successful verification process, copies of the forms for elective positions should have serial numbers and made available to recognised Ohanaeze members in Lagos.
In a Press statement copied to President General, Ohanaeze Ndi Igbo Worldwide, Chief John Nnia Nwodo, and read by the National Publicity Secretary, Ndi Eze na Uzo Ije (Diaspora), Eze John- Greg Ezebuadi, the association said while Ndi Eze noted the dissolution of the State local Ohanaeze Executive  Councils, they would like the structure of Ohanaeze in Lagos retained to ensure the continued existence and sustainability of Ohanaeze in the state.
While pledging their loyalty to Nnia-Nwodo -led national executive, they said a hurried election could disrupt Ohanaeze in Lagos and cause disharmony.  "!t is necessary that the election be shifted to a future date to ensure that a free, fair and credible election is conducted in Lagos", the statement read.
It continued: "Ndi Eze insist that contestants to various positions at LGA level should have the consent of their Eze at the local government level", adding that the Committees from the Enugu Headquarters should project their neutrality and not take sides.  "It is the position of Ndi Eze that in relating with us, respect should be accorded for seniority in the association".
Speaking further, Eze Onyebuadi said the Appraisal Forms from Enugu Committee fell into wrong hands, and therefore fell short of the rules and regulations of the 2006 Constitution of Ohanaeze Ndi Igbo Lagos State which recognised 20 LGAs in the State and the eligibility of registered financial members.