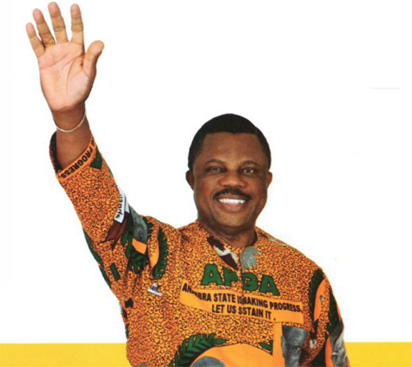 Willie Obiano
By Nwafor Sunday
As states in Nigeria struggle to pay workers salary, the Governor of Anambra state, Chief Willie Obiano has completed plans to pay minimum wage to workers from July, 2018. A statement disclosed by the National Coordinator APGA Media Warriors Forum, Evang Chinedu Obigwe on Thursday.
According to him, "Our alert Governor has maintained his payment principles. Twenty-eight of every month has always been the payment day. Obiano does not owe salaries, he pays them as and when due", he said.
He commended the Governor's plan to launch a 50years sustainable development plan, noting that such plan will go a long way in entrenching development in the State.
Obigwe equally lauded the Governor for the creation of youth empowerment and creative economy council, saying that the council will be of a great help to Anambra youths.
Speaking on corruption, Obigwe said that Obiano had planned to run a corrupt free government, thus the reason he invited Magu, the EFCC Chairman to the retreat held for his new appointees.
He advised opposition party members to desist from further distraction and distortion of peace in the state.  He equally noted that in a due time Governor Obiano will conduct Local Governments election.
In another development, Obiano was said to have distributed 40 Innoson SecurityTrucks to Combat Crime in the state. Newsmen gathered that the vehicles were carefully distributed among security agencies covering the Police, Army, Navy, Civil Defence and Ocha Brigade.
"My Governor is indeed working", Obigwe finally said.