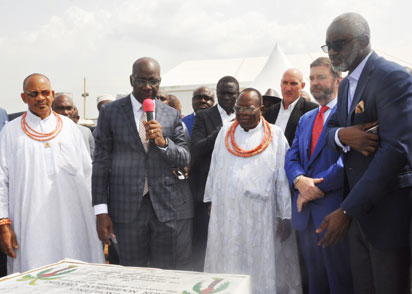 Representative of the Benin Monarch and the Obasogie of Benin Kingdom, Chief Eduwu Ekhator; Edo State Governor, Mr. Godwin Obaseki; the Esogban of Benin Kingdom, Chief David Edibiri; Member, Board of Directors, Okomu Oil Palm Plc., Mr. Hubert Fabri; and Chairman, Board of Directors, Okomu Oil Palm Plc, Dr. Gbenga Oyebode, during the commissioning of 11,400 hectares oil palm plantation at the Okomu Extension 2 plantation in Ovia South West Local Government Area, Edo State, on Wednesday, March 14, 2018.
Riding on the wind of a conducive investment climate guaranteed by the Governor Godwin Obaseki-led government in Edo State, Okomu Oil Palm Company Plc has commissioned an 11,400 hectare oil palm plantation covering over 10 communities in the state.

The commissioning of the plant held on Wednesday, at the Okomu Extension 2 Plantation in Ovia South West Local Government Area, was witnessed by captains of industries, Benin high chiefs and members of the companies' host community.
Governor of Edo State, Mr Godwin Obaseki, said that the state is pursuing far-reaching reforms to open up the state for investments, assuring that the state is committed to attracting even more investors.
He commended the Federal Government for taking the right decision in 1976 to open up the space for private investment in oil palm sector in Nigeria, noting "since the move, Okomu Plc has been standing tall. We are made to understand that the yield per ton on the farm is highest in Nigeria."
According to the governor, "We are grateful that my predecessor took the right initiative to sign the Certificate of Occupancy (C of O) for the expansion project, despite the opposition to the move at the time. We will continue to support the effort of Okomu Plc as long as it continues to expand."
Noting that the speed of development at the plantation was evidence of the conducive business climate in the state, he said, "You can see that this is quite extensive. But, more importantly, it is second to none in Africa. They were able to prepare and cultivate 9,000 hectares of land in one year. Can you imagine if we had more companies expanding at this pace; the amount of jobs and economic activity that they will create. I think this is a feat and it is amazing."
He assured that he was going to work with the governments of oil palm producing states in Nigeria, such as Ondo and Cross River states, to move for the establishment of an oil palm council in Nigeria.
He also said that the Edo State government is intent on creating a master plan for agricultural development in the state.
"Within the first two years since we came on board, we have initiated a number of projects, such as the Benin River Port project, Edo-Azura Power Plant, Benin Industrial Park as well as the refinery project. We want to ensure that Edo State becomes an economic hub in Nigeria. We are excited that the Okomu plantation will be producing raw materials for industries in the Industrial Park," he added.
Chairman, Board of Directors of Okomu Plc, Gbenga Oyebode SAN, said that government support has been tremendous, noting, "We won't be here today if we hadn't been allocated this land in 2014 by Governor Adams Oshiomhole. We have planted since then 9,000 hectares of land.
"We expect to plant the whole 11,000 hectares by next year. Then in 2020, we will start milling. For us, the state government has been phenomenal. It shows that the state government is not just in full support of agribusiness but of commercial enterprise in Edo State."
Noting that the company was keen on supporting the governor's job creation drive, he said, "We expect to contribute to the governor's job creation drive and we have already started. Right now, the expansion has created 2,000 jobs. Our expectation is that before we get to 2020, we would have created 4,000 jobs. There is a multiplier effect."
Managing Director, Okomu Plc, Graham Hefer, said that the company is committed to contributing to the state and Nigeria's economy by creating jobs, boosting productivity and impacting lives.
He said that the company has a robust Corporate Social Responsibility (CSR) progamme that runs into millions of naira per annum, noting that the host communities have been worthy partners in progress.