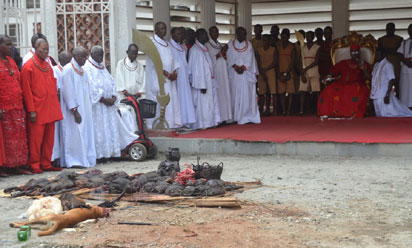 HIS ROYAL MAJESTY HELD MEETING IN THE PALACE WITH ALL NATIVE DOCTORS, ALL BENIN CHIEFS, ALL ENIGIES, ALL ODIONWERES AND OTHERS
• Whoever dares him doesn't survive— Esogban of Benin warns
•We believe in it in spite of Christianity
BY SIMON EBEGBULEM,
Chief David Edebiri is the Esogban of Benin Kingdom. As the Odionwere of the Kingdom, he is responsible for the security and progress in the Kingdom. In this interview, Esogban who is the second in command in the hierarchy of the first class chiefs of the Oba of Benin after the Iyase of Benin, explained why the Benin monarch, Oba Ewuare 11 placed a curse on human traffickers and cultists in the state.
He disclosed that the charms which he described as missiles used by the Oba in placing the curse had not seen sunlight for 800 years, which was an indication that the revered monarch was very concerned about the activities of human traffickers which had obviously given the kingdom a bad name. According to Esogban, whoever failed to heed the warning of the Oba would surely incur the wrath of the gods especially if the perpetrator ever drank or drinks the water from the Kingdom or set his or her foot in Benin Kingdom.
EXCERPTS:
Sir, what informed the decision by Oba Ewuare 11 to place a curse on human traffickers, cultists and killers in the state?
This problem of human trafficking has been on for a long time. Every day we read stories of slavery and deaths in the Mediterranean sea of our people. It has been a major concern to all of us. Particularly three weeks ago, we watched the CNN devoting its African story to Benin City. Nothing else but Benin City and human trafficking. The story was featured throughout the week which portrayed Benin City as a place for incubation of harlots and free sex workers before they were transported to Europe. I was weeping while watching the programme and I think that was the same feeling our father, the Oba had and decided to say that enough is enough. You will remember that during the reign of Oba Erediauwa, when kidnapping started, no one knew where the kidnappers were coming from. We had to place a curse to abate it. In that case, the juju men, the meta-physicians, the Ewaise, the Ohens and others were asked to bring their materials from homes, which we used in placing the curse then and it was very effective. Prior to that curse, it was not possible to arrest those people, they looked like people from different planets. But immediately the curse was placed on them, they became ineffective and as soon as they kidnapped, they were arrested and were paraded on television. Many left Benin and we had some peace.
But last weekend Oba Ewuare 11, brought the traditional missiles from palace reservoir. Some of these missiles had not seen the sun in the last 800 years and they were brought out that day for the purpose of the curse. Truly, it was a thorough job. I personally congratulated the Oba for going to that extent. The materials that were brought out had been there even during the reign of Oba Ewuare 1, in 4040 AD. Those things are only brought out in a serious occasion such as an impending war. So, this human trafficking has become a war against us and the Oba has used the opportunity to place what I call a decree on so many anti-social activities in our Kingdom including illegal migration, kidnapping, cultism, and killing people unnecessarily. The ultimate aim was to sanitize the society.
The Oba did not just put a curse on all those who would from that day practice these evil things, he went further to nullify the oath of secrecy administered by any native doctor  on victims before traveling out. The Oba assured that all such victims had been set free from whatever had been administered on them and that it took immediate effect. So the victims can now disclose what people did to make them part with their money and this will make the identify of the people behind this dirty trade to be known. So we are all happy for what the Oba did and the repercussion for anyone who would break the rule is known. And if those who are not of Benin extraction think that they can come here and do whatever they like and go away, it also goes with them. The only thing is that when they are dying one may not see them. This curse is not meant to affect only Benin people but anybody who resides here, or drinks the water here.
Why do you think this business of human trafficking thrives in Benin?
I have always asked the same question myself. Our population is not that much, if it is for centrality, Benin is a central place where all Nigerians can converge but that does not mean it is the problem. Because, if you look at the list of returnees they are Benin people. Prior to this era, the Benin people, particularly our women, were never known to be wayward. Does it mean that Benin is the poorest place in Nigeria of today? why must it be Benin? We are sending people to Russia next year to play in the world cup, why not five or six Benin people in that team as it used to be in those days? Why are we not taking first in the list of science students who go abroad and excel? I don't know. When our people always preferred to go to Italy, I had thought that the Italian men had special flair for Benin girls but it had passed that stage now. Are the Benin people now lazy that they cannot work with their hands unless they go out and prostitute? What of the boys? The problem is that all these people want to ride big cars and they believe once you go to Libya or Europe you will make it. That is an erroneous belief and that was the point Oba Ewuare 11 wanted to prove that if you want to be a rich man in this world you can stay here in Benin, work hard and become rich. Those who made it in the past and those who have made it now did not go to Libya or Europe.
Will the curse also affect the parents who sell their property and give money to their children to go abroad ?
It will catch up with all of them. Both the parents who sell their property to send their children out for these hazardous jobs, the native doctors who have heard about this curse and still persist in the act of preparing that concoction for people to drink, will all suffer for it I can assure you. There is no escape for such persons. I told you that this is the first time as Esogban of Benin that I am seeing the Oba going to get what I can also describe as weapon of mass destruction for the evil doers. These missiles don't come out like that unless we are going to war. In the past the Oba could call on the relevant metaphysics societies, like Obo, Ewaise, iwebo and other groups to bring what they had and that would be used. But that of last Friday was different. The Oba had to bring out the one that had been there for centuries and we rely on those things for the protection of this kingdom. In the ancient times during the inter-tribal wars, Benin was never known to have been defeated by any group because God Almighty and our gods were behind us. We believe in it in spite of Christianity that is everywhere now. The truth of the matter is that if you are a true Benin person and hear the curse of the Oba, you will not dare do what is forbidden. The event of last Friday will help to reduce drastically illegal migration in Edo state. It is a crime against God and humanity and it is a crime against all our ancestors. Our children are not slaves and they cannot be slaves to anybody.
The Oba was Nigeria's ambassador to Italy and while he was there as the Crown Prince then, how was he able to handle issues like human trafficking which of course involved Benin people?
When he was Nigeria's ambassador to Italy, he handled issues like this human trafficking and because of his kind of person the incident reduced drastically for the period he was ambassador. But after his departure the matter went full blast again and became a matter that virtually every house in Benin is now involved. Those who could not send their children to Libya or Italy were seen as the weaker ones. It was not only the Oba of Benin who had been embarrassed, every Benin person, every Nigerian must be embarrassed. Unfortunately when the CNN crew came they did not show the good part of Benin City, but portrayed the whole thing so bad before the public.
What about those who must have paid money already to traffickers to take their people to Europe, will they forfeit their money?
Those who had gone the wrong way to part with their money, they have nobody to blame. Nobody is going to pay them back. Those people should know that the journey they want their children to embark upon is a dangerous one. Thousands of our people have died in the Mediterranean sea and the Sahara desert. So, those people should know that God had saved them with the Oba's curse. Let me tell you the truth, no one can tell you not to go near a burning fire. Whoever dares the Oba's decree doesn't survive it. Even the Oba told the story himself that day, that those who came to plead for the revocation of the juju in the past found out that it was no longer possible. I hope every Benin man or woman, as well as all those who live, drink water and breath air here stay away from evil activities to avoid the wrath of the gods.