By Anayo Okoli
UMUAHIA—ABIA State Governor, Dr. Okezie Ikpeazu has said that his administration would not deny any community in the state whatever is due to them in its development programme.
Ikpeazu who spoke when the people of Uturu community in Isuikwuato Local Government Area visited him at the Government House, Umuahia, assured that administration would ensure that every part of the state is represented in the area of development.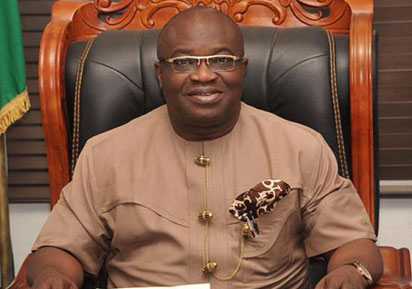 Governor Ikpeazu was reacting to complaint of the delegation of the Uturu Development Association who was led to the visit by the chairman of Isuikwuato Council, Chief Nnamdi Udeze , that no road project is being executed in Uturu.
The governor said , "I am  not aware that the state government has no road project in Uturu. If that is true,  I will look into the issue and follow it up."
Ikpeazu also urged the President General and traditional ruler of the community to write to the State Commissioner of Police to upgrade the police post in the community to a divisional police station.
According to him, "Uturu community is important in the scheme of things in the State. Get your people to register their names and get their voters cards ready to enable them vote in next year's elections."
Dr. Ikpeazu also lauded the Abia State University being hosted by Uturu community for running a strike-free academic calendar for three years consecutively, assuring that the way the institution is going, it would soon be among the first ten state universities in the country.
Earlier in his remark, the President General of the Uturu Development Association, Hon. Akaeme Uchenna declared their support to Governor Ikpeazu and commended him for his development efforts.
He appealed to the Governor to help the community in the construction of roads and to solve the power problem  facing the community, among other problems.
The delegation assured Ikpeazu of the support of Uturu community in 2019 elections.
Others in the said criminal charge are: Charles Chukwu, Maximian Chukwura, Mitsui Osk Lines and Annajekwu Sunny.
The AGF in the charge  alleged that all the accused persons, between January, 2010 and April 2011, at Apapa Wharf, Lagos, conspired amongst themselves to wit, falsification of shipping documents which they deposited with Mitsui Osk Lines Lagos, which was used as collateral for the purpose of clearance of raw materials polyinlchloride (PVC), for the production of roof ceiling and other imported item.