By Comrade Issa Aremu
Institution building is today globally acknowledged as the hallmark of nation building. But often the focus is on the state institutions.
The Nigeria Labour Congress (NLC) is a non-state institution that has come of age in defense of the interests of its working and retired members in line with the objectives of its constitution.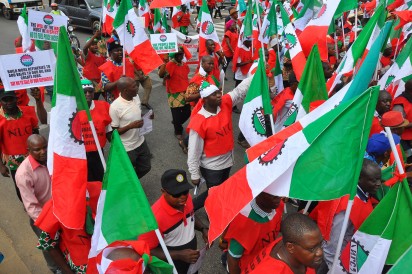 Barack Obama, the 44th President of United States of America, admonished Africans during his historic visit to Ghana in 2009 to build "strong institutions" in place of strong men.
If Obama was conversant with the history of labour movement in Africa including that of the NLC, he would have known that African workers despite the enormous challenges of organizing have been building strong organizations with strong working men and women.
It is remarkable NLC celebrates   at 40 with a number of activities and manifestations that include thanksgivings and public lectures. Unarguably, NLC remains the biggest labour centre in Nigeria and indeed in Africa with over seven million organized   from 52 affiliate industrial unions.
As the biggest independent trade free union movement in Africa it is rivaled by the Congress of South African Trade Unions (COSATU) in terms of independence and self-assertion. The two biggest labour centers in Africa maintain robust bilateral engagement on organizing, collective bargaining and international solidarity campaigns. The NLC, acts national and global.
It   is   an activist affiliate of the Accra-based organization of Africa Trade Union (OATUU) and Geneva -based global union, the International Trade Union Confederation (ITUC), representing over 200 million workers in 156 countries and national territories with other 311 affiliate union's world wide. It is also active member of International Labour Organization (ILO).
Organizational birthdays are occasions to celebrate the past achievements and set the agenda for the future. What then are the achievements of NLC four decades after?   Anniversary celebrations obviously raise the question of institutional memory. The NLC at 40 is the "third NLC" in history. Capitalists, employers and owners of means of production do concentrate power and form transnational organizations to maximize profits.
Conversely workers and their unions saw the need to form inclusive national and international organizations aimed at maximizing labour's welfare and curtail exploitation by capital.
Under British colonialism, the first generation of unionists not only formed trade/house unions but also tirelessly worked to form central national labour organizations that could confront colonial capital with its exploitation and oppressions.
The iconic visionary labour leaders and drivers of this historic organizing effort included Labour Leader Number One Michael Imoudu, H.P. Adebola, Wahab Goodluck, S.U. Bassey, J.O. James, N.F. Pepple, A.I. Okwese, E.A.O Odeyemi, J.U. Akpan, R.A. Ramos, Okon Esshiett and Vincent Igwe Jack. The first Nigeria Labour Congress first was formed in 1950.
The inaugural conference of the second NLC was on December 18, 1975 at the Banquet Hall of the Lagos City Council hall,   on the ashes of the then existing four labour centers, namely United Labour Congress (ULC), Nigeria Trade Union Congress (NTUC), Nigeria Workers' Council (NWC) and Labour Unity Front (LUF).
The second NLC was inspired by the great oration delivered by the late Okon Esshiett, who was then Director of Trade Union Institute (TUI), at the burial of the late Chief J.A. Oduleye at Apena Cemetery in Lagos in 1975.
The speech is also known as the Apena Declaration in labour cycle. The efforts at new NLC were successful until the then Federal Commissioner for Labour in the Administration of General Murtala Mohammed, Major General Henry Adefope, announced the new Federal military Government's Labour Policy of "limited Government Intervention and Guided Democracy in Trade Union matters".
This led to the wholesale restructuring of the then existing hundreds of house unions into national industrial union. In 1978, despite military intervention, NLC re-emerged as a product of the independent efforts of comrades to forge a common front in advancing workers' interests. This year is, therefore, also a year of celebration of all the unions in both private and public sectors affiliated to the restructured NLC in 1978.
With documented struggles spanning four decades, the NLC has truly "come of age" as a pan -African (and indeed global) strong institution. The presidents of NLC to date are comrades Hassan Sunmonu (1979-1984), Ali Chiroma (1984-1988), Paschal Bafyau (1988-1994), Adams Oshiomhole (1999-2007), and Omar Abdul Waheed.
(2007-2015) and Ayuba Wabba . Undoubtedly, every serious labour leader brings to bear his determination, knowledge and courage to improve members' working and living conditions. With negotiated four national minimum wages since 1981, NLC has commendably provided minimum pay standard for workers. However with the neo-liberal policies of Naira devaluation and deregulation it is clear that Nigerian workers then on N125 (about $200 in 1981!) in real terms were better than workers on N18, 000 (less than $50) in 2018!
The NLC in the years to come must contend with macro economic instability in Nigeria's foot loose crony capitalism. It is Economicide, (an economic equivalent of political genocide!) to systematically deny workers adequate pay. NLC at 40 must quickly conclude its negotiations on the new minimum wage. There should the an anniversary new minimum wage!
NLC should demand for ease of living and working as much as organized businesses demand for ease of doing business. With 11 delegates' conferences of NLC in 40 years, notwithstanding the challenges that trailed the last one in 2015, it is self-evident that the NLC exhibits democratic traditions and experiences.If we add regular organs' meetings such as that Central Working committees, National Executive councils' meetings in the past 40 years, NLC passes democratic test in quantitative terms.
In the years to come, NLC can only qualitatively improve on it's democratic heritage. Comrades must avoid the pitfalls of exclusion which often undermine unity and cohesion. Anniversary period is also a good time of organizational self- criticisms and reflections. In the years to come, all unionists must be united and stop divisive leadership tussles.
If unionists operate separately precarious work will defeat them collectively through non-payments of salaries of some civil servants, devaluation of the Naira, retrenchment and wholesome unfair labour practices by many employers in the private sector. The anniversary offers a platform for a critical and constructive engagement among comrades for a better, repositioned NLC. Forward Ever! Backward Never!
*Aremu is a member of the Central Working Committee (CWC) of the NLC