IT is 59 years since Dr. Kwame Nkrumah's historic visit to Nigeria – in 1959 – in those heady days after the first All African People's Conference, which Dr. Nnamdi Azikiwe hailed as the beginning of a Federation of Independent West African States. Noting that Ghana and Nigeria's struggles were identical in many respects, Dr. Azikiwe had declared that, "The very diversity of our peoples, and customs and languages, means that we have much to contribute to each other."  He looked forward to our two countries becoming "models of honest and democratic government" capable of giving hope to all of Africa.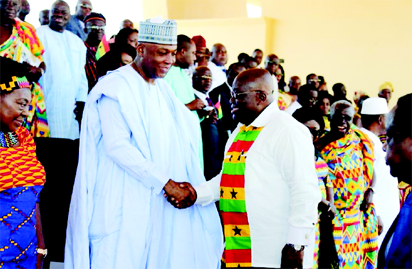 Typically, when we hear of a 'special relationship' between nations, it is with regard to Britain and America; and as the Reagan and Thatcher era showed forth, these are relationships that outlive governments. Ours, too, is a special relationship, which should outlive us and be a reference point in Africa. The onus and leadership rest on us. What we do now, lays the basis for the continent's future.
Here then is the imperative of unity between our two nations and in the region. With unity and democracy as standard, we can lay the groundwork for good governance and development. We are thus presented with the opportunity to work for democracy, using the instrumentality of parliament.
If Africa is to be fully integrated into the global economy, its constituent nations must be governed by the rule of law, and we have to commit to making the required adjustment now. The strength of democracy starts with the strength of parliament. It is our responsibility to instil in the body politic the time-honoured principles of participation, transparency and accountability, and to fight corruption, always making the space for stakeholder participation. This is the modern model of governance.
Parliaments are a stabilising force in democracy, especially with regard to oversight responsibility. We must be courageous; even when some of our initiatives fly in the face of special interest, ours is to do what is right for our people. To do this, we must defend democracy. We have seen for ourselves the beauty of democracy in its infancy. That should give us the inspiration to steer it to a level where it can compete favourably with older democracies in the developed world.
As a community of democratic West African States, ECOWAS makes it that much easier to build consensus; and the organisation can serve this purpose very effectively on security and the economy. As many regional challenges indicate, our people suffer when the needed policies are not in place. In Nigeria, Boko Haram insurgency and Herdsmen-and-Farmers conflicts come with regional dimensions – further aggravated by porous borders that advertise the weakness in trans-national security, while facilitating irregular migration and human trafficking. There is a need to strengthen our security apparatus so that together, we can fight terrorism. It is a threat to government, education and economic development.
We have much to build upon. Trading relations between Nigeria and Ghana have begun to peak. Collaboration between the Nigerian film industry – Nollywood – and Ghanaian actors, directors and producers, remind us that age-old competition in football and even music – for who can forget the glory days of E.T. Mensah and his co-travellers in Highlife? – all of that, can be channelled in truly great and creative directions.
We are the richest continent in resources and yet we are the poorest, because we have allowed ourselves to be pigeon-holed as the supplier of raw materials to the world. The leaders of our two countries are clear in their stance on the raw materials pivot of our economies. President Muhammadu Buhari has said that, "Our vision is for a Nigeria in which we grow what we eat." And President Akufo-Addo is unequivocal: "We must add value to [our] resources, we must industrialise and we must enhance agricultural productivity."
The two leaders have identified this flaw in our economies, and we in parliament must support them with appropriate legislation in order to realise their vision. African parliaments have to come together to cross-pollinate ideas about how to move the continent forward.
It is unacceptable that Africa's trade with Europe far outstrips that between African nations. British foreign investment in Africa totalled $54.1 billion in 2014. China had an estimated 2,650 projects ongoing on our continent in 2015. Meanwhile, Africa's share of the global trade stands at 3 per cent, inter-Africa trade is 11 per cent. We must devise an economic model that produces and manufactures primarily for the African market, and then use that as a basis upon which to engage with the wider world.
I strongly believe that our people's talent for innovation and enterprise makes them our most valuable resources – it is our role therefore, to give them opportunities to translate these into going concerns. This will create wealth and enable us to compete globally. Africa cannot afford to lag behind. We must work to make the sub-region a place of investment. We must generate wealth for the people of Africa.
It is incumbent on us to make clear promises and to deliver on them. Our two nations can forge ahead by sharing experiences, building upon valued discourses about the way the world works, and how to make our people beneficiaries as well as contributors to the great leaps of this century.
We must invest in primary, secondary and tertiary education – up to the 26 percent of the national budget recommended by the United Nations. It must be mandatory for every child to go to school; we should ensure that there are incentives for those that send their children to school, and penalties for those that do not. We have to pull every one of our citizens out of the cycle of poverty and ignorance, and education is the means by which to do so.
My vision for Africa is an optimistic one. I am very upbeat about the continent, I am very upbeat about the future. Greater educational, scientific and technological interaction can lay a basis for our part of the world to match the rest of the world. Democracy is not just about elections; it is about putting knowledge at the disposal of a people determined to take their future into their own hands.
If the African continent is to be a success story – or even the African Union (AU) for that matter, ECOWAS must play a key role. And for ECOWAS to lead the charge, Ghana and Nigeria must step up to the plate, and fulfil their leadership role on the continent.
*Excerpt of speech delivered by the President of the Senate to the Parliament of Ghana on March  5, 2018.
Subscribe for latest Videos