By Chioma Obinna
To commemorate this year's World Oral Health Day, today,  March 20, the Nigerian Dental Association advocate, NDA,  staff of Unilever Nigeria, makers of Pepsodent and other stakeholders  trooped out in their numbers  for an  oral health walk aimed at promoting good oral hygiene  among Nigerians.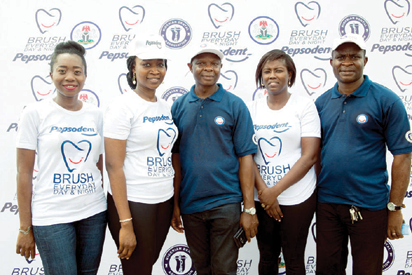 The walk from  the Lagos State University Teaching Hospital (LASUTH), Ikeja, ended at the Johnson Jakande Tinubu Park, Alausa, Ikeja featuring host of Nigerian celebrities and other enthusiasts.
Free dental checks, distribution of  Pepsodent toothpaste and oral health educational materials took place during the walk.
Reiterating the need to prevent tooth decay,  the walk was avenue to canvass for the adoption of good oral care habits, including brushing twice daily (morning and night) with a fluoride toothpaste.
In a speech, Toluwaleke Salu, Category Manager, Oral Care, Unilever Nigeria: "Tooth decay is a global widespread disease which affects 3 out of 5 children, and almost all adults. This disease can be prevented via good oral hygiene practices. This health walk is part of Unilever Nigeria continuous effort to fight oral diseases in Nigeria, and promote good oral hygiene.
"Pepsodent consistently advocates the need for Nigerians to imbibe the culture of brushing twice daily by using a fluoride toothpaste.
"We remain committed to improving the oral health of 10 million Nigerian children by 2020, through the Pepsodent 'brush day and night' Schools Programme, where we educate kids on the importance of brushing twice a day (morning and night)," Salu concluded.
President of NDA, Dr Bode Ijarogbe said: "With the growing rate of tooth decay, this walk is intended to promote worldwide awareness of the issues surrounding oral health and reiterate the importance of good oral hygiene.
Themed 'Say Ahh: Think Mouth, Think Health', the 2018 World Oral Health Day event, WOHD, holds at The Arcade, Eko Club, Surulere, Lagos.