By Innocent Anaba
abuja—The President of Nigerian Bar Association, NBA, Mr Abubakar Mahmoud,  SAN,  yesterday at the national secretariat of the association in Abuja inaugurated NBA 2018 Electoral Committee,  ECNBA.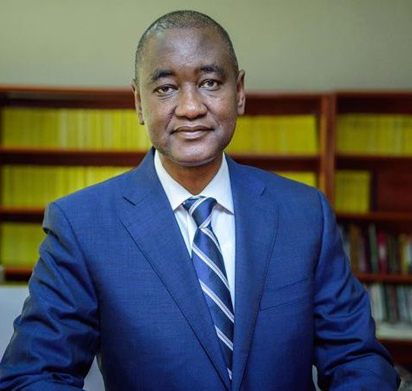 The five member committee has Prof Auwalu Yadudu, SAN as chairman,  Mr. Teslim Busari, SAN,  as Alternate chairman  and Mr. Bolaji A. Agoro as Secretary. Other members of the committee are Prof. Augustin Agom and Gloria Anuli Ohia.
The electoral committee members were nominated and approved at the last National Executive Committee, NEC, meeting of the NBA held in Ilorin,  Kwara State.
Prof. Agom was nominated to replace Mr. Tobias Kekemeke, whose nomination was rejected by Bar leaders NBA  in Ilorin, who alleged that he was already canvassing for votes for one of the Presidential candidates in the election.
The terms of reference of the committee include to manage, control and conduct elections of national officers , to screen aspirants for the election, to circulate the list of properly nominated candidates to all the branches and the candidates by e mails and puyblish same on NBA website before the elections.
He also charged the committee to publish a full list of all the legal practitioners who are qualified to vote before the date of the elections; publish the curriculum viteae, comprehensive manifestoes and campaign material of all the qualified candidates on the NBA website; issue guidelines for the conduct of the electronic voting;  collate and arrange all the materials of qualified candidates in alphabetical order and publish them in  electronic magazine on NBA website before the election.
Mahmoud urged the committee to hear appeals of candidates dissatisfied with the decision of Electoral Officers and/or their Assistants and to take decisions upon receiving appeals made by a candidate.
In his vote of thanks, Prof Yadudu thanked the NBA for the opportunity to serve and promised to discharge their duties according to the constitution of the NBA, the fear of God and their conscience.
The inauguration was witnessed by many national officers including the General Secretary of the NBA, Aare Isiaka  Olagunju,  the 1st Vice-President of the NBA, Mr Caleb Dajan, National Publicity Secretary, John Austin Unachukwu, 2nd Assistant Secretary, Cecilia Ugbuji and Assistant Financial Secretary, Ngozi  Udodi.