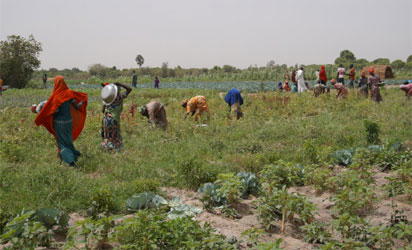 HARVEST: Women with baskets of tomatoes harvested from farmlands provided under the Restoring Agricultural Assets of IDPs, Returnees and Vulnerable Host Families in NorthEast Nigeria project, put together by the Food and Agriculture Organisation of the United Nations; the UN Central Emergency Response Fund and the governments of Ireland, Japan and Belgium.
…guarantees farmers quality seeds for 2018 farming season
By Gabriel Ewepu
ABUJA- THE National Agricultural Seed Council, NASC, Wednesday, read riot act to fake seed producers across the country.
The Director General, NASC, Dr Philip Ojo, during a press conference held at the headquarters of the councilagency in Abuja, where he disclosed that farmers henceforth will be provided a helpline in order to protect them from unscrupulous seed producers, distributors and marketers.
According to him the helpline will afford farmers access to first-hand information on seed and other needs in the three major languages, which they will also reach the council through 07000073337/070000SEEDS and website on www.seedcouncil.gov.ng. He added that the council will do everything humanly possible to protect farmers and sanitise the seed industry.
He said as a result NASC will soon unveil a concept known as Model Seed Markets and, working with stakeholders, will commence with the establishment of model seeds/input markets. The first of which will be within the council's headquarters, where farmers nationwide can get quality input near their areas of use.
He further stated that all agencies that must engage in seed activities at the federal, state and local government levels must get NASC clearance before commencing such activities, which the directive applies to all international support agencies.
He also urged farmers not to lose hope or relent concerning buying seeds from recognised sources as the Council is better positioned to ensure that what they purchase gives them value for their money, which they are to look out for a blue tag of NASC with dates, lot number, label showing month and year the seed was produced, germination capacity and purity of the seed, the producer's label on the bags containing seeds from accredited seed companies.
He added that farmers should check that the seeds in the bag are uniform in shape and size. The seed bag should not carry any foreign matter apart from the seed itself and should buy seeds from dealers who have clear and traceable address and ask for a receipt upon the purchase of the seed.
He said: "Today's briefing focuses on 2018 cropping season, the farmers and their expectations from as well as what all national and international agencies should in accordance to the laws of the land in all their seed-related activities.
"I encourage all our dear farmers, as they prepare to establish their fields, to do things differently this year to ensure a bumper yield. Please, use only seeds from accredited sources if you must produce.
"It is illegal for anyone anywhere to sell or market seeds in open containers, or with false labels, or fake seeds in our markets. Our farmers also need to stop patronising these open markets for seeds.
"We are thus calling on all such organisations or persons to come out and properly legalise their businesses before we come to them with the full force of the law as doing seed business without necessary permit in contravention of the Seed Act
"Government and non-governmental agencies are hereby informed that the National Agricultural Seeds Act, No 72 of 1972 and other related matters,' in force, applies to activities relating to seeds and planting materials.
"These include seed production, distribution, quality control, certification as well as marketing of seeds and planting materials) and the ECOWAS Harmonised Seed Rules and Regulations. The sole purpose of these laws is to regulate the production, marketing, trade and use of seeds in Nigeria. NASC has the mandate of implementing the provisions of these laws.
"Let me emphasise that no one, whether a government agency, private, non-governmental, donor or individual, is permitted to do any form of activity or business relating to seed without the notification of the NASC. Just as it is against the law for anyone to organise a protest without the permit of the police, it is also a contravention of NASC Act No 72 of 1992 to organise production, distribution or marketing of seeds without the NASC accreditation or permission."
While expressing his concern over the farmers' access to quality seeds the NASC boss noted that many agencies with genuine intentions of assisting the farmers and making Nigeria food secure have engaged in series of activities on seeds without the collaboration of NASC.
He also revealed that a lot of poor quality seeds are imported into the country through the borders without proper clearance and declaration to the council, which he sought collaboration with relevant government agencies, including the Nigerian Agricultural Quarantine Service (NAQS) and the Nigerian Customs Service, NCS, in coordinating the importation of vegetable seed into Nigeria for traceability and quality assurance purposes.