*as Reps move to override Buhari on election reordering, Peace Corps Bill
By Levinus Nwabughiogu
ABUJA– Baring any unforseen circumstances, the 2018 Appropriation Bill otherwise called "Budget" would be passed into law by the National Assembly on April 24.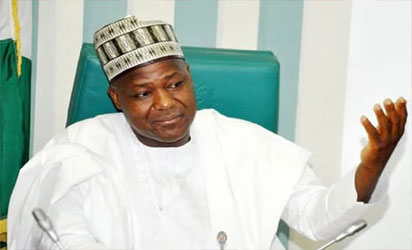 Recall that President Muhammadu Buhari laid the document before a joint session of the two chambers of the national Parliament: the Senate and the House of Representatives on November 7, 2017.
Giving the hints in an announcement given to him by the Deputy Speaker of the House, Hon. Yusuf Lasun, the Speaker of the House, Hon. Yakubu Dogara said that a harmonised committee of both chambers has proposed to lay the budget on April 19, 2018 to pave way for its passage on April 24, 2018.
He said: "We are proposing that we are laying the budget finally on the 19th of April 2018, hopefully we will be passing the budget on 24 April, 2018. This is harmonised calendar with the Senate".
The House also commenced what could be likened to override of the presidential assent to the two bills of the National Assembly rejected President Buhari.
The two bills included the Electoral Amendment Bill and the Nigeria Peace Corps Bill.
It will also be recalled that the House Spokesman, Hon. Abdulrazak Namdas last Wednesday told House of Representatives correspondents that the lawmakers would kick-start the override process soon.
To this end, the two bills were relisted on Wednesday Order Paper.
Titled "Nigeria Peace Corps Bill HB 89" and "Electoral Act Amendment Bill HB 966", the bills scaled first reading at plenary.