By Emman Ovuakporie
ABUJA — THE Acting Chairman of the Economic and Financial Crimes Commission, EFCC, Ibrahim Magu on Wednesday told the House of Representatives panel investigating missing monies in Nigeria Intelligence Agency, NIA, that the outstanding of $202 million from the $289 million would soon be recovered.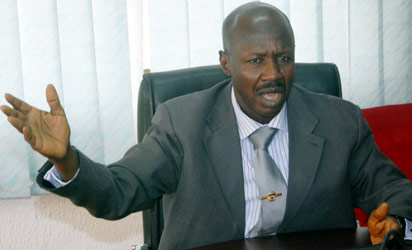 Speaking at the investigative hearing by the House Committee on Public Safety and National Intelligence, Magu said the money will soon be recovered with the support of Nigerians.
It could be recalled that the sum of $43 million was recovered by the EFCC operatives from Ikoyi Apartment, Lagos state in 2017 following tip-off from a whistle blower.
The newly appointed NIA Director General, who appeared before the Committee penultimate week, confirmed that $44 million being investigated by the Committee was retrieved to a safe custody.
While giving update on the closed door session, Magu said: "As you can see, everybody is supporting us and we need the support of everybody to succeed.
"As far as this investigation is concerned, we are very much on course and very soon we shall recover it," Magu told newsmen who accosted him.
When asked about the challenges facing the Commission in the process of its investigation, Magu who is yet to be confirmed by the Senate over two years after his appointment, said: "No problem. Whether challenges or no challenges, we are unrelenting. You don't expect the investigation to go on smoothly."
Speaking further on the series of attempts to stall the process through Court injunctions, Magu said: "I said we are unrelenting. Everyday you wake up and face all manners of adversaries but what we need is the support of all Nigerians in the fight against corruption."
 Money yet to be recovered
On his part, chairman of the committee, Aminu Sani Jaji, confirmed that the $202 million is yet to be recovered.
Jaji said: "Even the acting Chairman of EFCC said the same that the issue of the $202 million or whatever remains unaccounted for. And I know he remains committed and resolute to see that they recover the $202 million or whatever, and as a Committee, we are going to do our best.
"As I said earlier, his appearance today is headway for us. By next week, the Committee will come up with all other outstanding information for the Committee to round up its investigation.
"As I said earlier, it's an investigative motion and then we are trying to do justice to all the people involved. That is why we decided to invite the acting Chairman of EFCC and then the chairman was able to give us brief about what is going on.
"With the information he gave us, we have made headway."