Jamiu Abiola is a writer, linguist, businessman and son of Kudirat and MKO Abiola, who were slain following MKO's victory at the June 12, 1993 presidential election in Nigeria. He spoke to OSA AMADI, Arts Editor, and Chris Onuoha about his passion for writing, his new book, The Stolen Presidency, his father, and Nigeria's problems.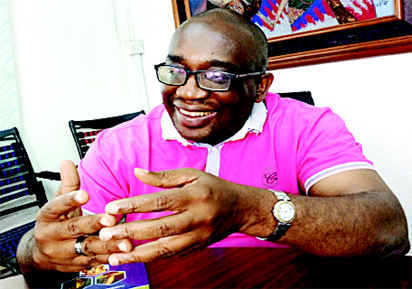 How many books have you written so far?
I have written four books: Realistic Hope, Prisoner of conscience, The president who never ruled, and this current one, The stolen Presidency. I write most of my books in English and Arabic, though I wrote this one in English only.
Are you a writer by training?
I am a writer by interest, by inspiration. I have been reading books since I was nine years old. But what helped me most was that in my quest to become a better linguist, I was always reading books in two languages so to improve in both languages at the same time. In the middle of doing that and translating books, I ended up becoming a writer. It is very practical and straightforward.
Could that be attributable to your family background?
My father always encouraged us to do what we wanted to do from inside. He too was very intellectual. As you know, he had a lot of proverbs, parables. He had a literary side but he never developed it because he was more into business. I am into business too. I have been running the NNPC petrol station for more than 10 years which is the biggest selling petrol station in Lagos, but at the same time, the passion for literature and writing is also there and I decided to develop it about four years ago.
Does the entire NNPC petrol station belong to you or your family?
This is how it is: When President Obasanjo was in power, he visited Brazil and saw that they have government-owned petrol stations in Brazil that was a joint partnership with the private sector. So he decided to build mega stations for NNPC in Nigeria in partnership with individuals and the private sector. I was appointed by Chevron to manage the petrol station for NNPC in Ikoyi, Lagos in 2007. Later, NNPC appointed me directly. So it is a joint partnership between me and NNPC. Every government NNPC station has someone from the private sector to run it on behalf of the government. So I've been running the one in Lagos for the NNPC since 2007.
How are you able to combine business with writing?
If you don't find time to do what you have passion for, you will be dying gradually inside. Business is good because at the end of the day, we have to survive, we have to move on. And I am glad I am doing this business because it is essential to supply people with petrol, kerosene and diesel. But my passion in life has always been languages and literature. So in the meantime, I've gotten involved with writing. It is something I have to do for my own personal happiness. And at the same time, I also got involved with translation. I took an online course and got certificate in New York, two or three years ago. Currently, I work for TransPerfect, the biggest translation company in the world. I translate for them in five languages – German, Arabic, Italian, Spanish and French – and for most of the biggest companies in the world. So I do that along with the writing which is what I have passion for.
Is there any particular theme that runs across your writings, perhaps a philosophical world view of yours?
I strive to make my books speak to the conscience of people. I like to send a strong moral message and make people realise why they have to work with their conscience, why they have to do the right thing.
In all the books you have written, is there any particular political message you are trying to pass across?
The message in The President who never ruled and The Stolen presidency is sacrifice – the need for people to make sacrifice for the country. The country needs good men. It is not a question of saying I want Nigeria to be good. It has to do with doing whatever you have to do (to make the country good) even if it is going to cost you your life. If Nigeria is great, it will be for everybody. I want people to understand that it was a sacrifice that this man (MKO Abiola) made.
Do you have any interest to go into politics?
I don't think that the atmosphere is right for me now to go into politics. But if the opportunity arises and there is vacancy in a position that interests me, why not?
If opportunity arises, as you said, and we send you to Aso Rock, what would you pursue?
The problem with Nigeria is that she started from the wrong foundation. A country without any guiding principle cannot move forward regardless of the resources available to her. Americans have what they call the 'American dream' upon which the American foundation was laid. What Nigeria needs to do is to go back to the foundation. So what I will do is to instill the right values into people.
But many people believe that Nigeria's problem lies in her political and economic structures. Do you think so?
Nigeria's problem can actually be structure, but the truth of the matter is that we need to rebuild ourselves from inside. If we restructure Nigeria externally without internal restructuring, we are still going to be messed up.
Some people believe that your father did not die for democracy but for his own personal ambition to be president. What do you think?
People are entitled to their own opinions. The truth is that my father and mother sacrificed their lives for democracy in Nigeria, and since their death, democracy has taken roots. Secondly, if my father had not made that sacrifice, power couldn't have shifted to the South.
Do you believe your father died a natural death?
The Federal Government killed him, even though we may not be able to prove it. But there is nobody in this world that will not die. What I want to tell those who killed him is that they too are going to taste their own death one day.