…We're ready for dialogue — Ambode
….As real estate professionals say only 0.076% of 60% of property value is charged
By Kingsley Adegboye
lagos—Reactions have continued  to trail the Lagos State Government's  recent re-enacted Land Use Charge, LUC, with the Manufacturers Association of Nigeria, MAN  appealing to  it to reverse its current increment  in the charges  in order to  ensure the survival of the manufacturing sector.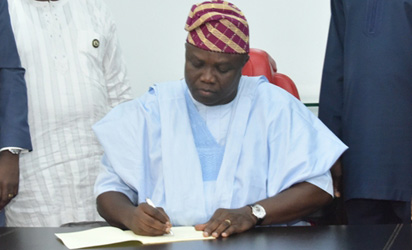 On its part, the  Organised Private Sector, OPS has threatened to resist the review of the LUC  which it puts at 200 percent increase.
But  the Coalition of Real Estate Investors and Surveyors in Lagos State has revealed that after a thorough analysis of the LUCL 2018, Owner-Occupiers are expected to pay a token percentage of 0.076% of the value of the assessed property.
However, in an apparent response to the appeal, Governor Akinwunmi Ambode of Lagos State , yesterday  said  he was ready to dialogue with the Organised Private Sector, OPS on the LUC, with a  view to  arriving at a compromise.
Recall that the state government had explained that the recent increase in the land use charge would provide more resources to the state to provide social services and infrastructure to the benefit of the general public. It also extended the period for the payment of all annual LUC  Demand Notices for 2018, to Saturday, April 14, 2018,  to enable Property Owners and affected occupiers to take the option of enjoying the discounts available for the prompt and early payment of LUC invoices.
But in his reaction,  MAN President, Dr Frank Jacobs  averred  that the sudden rise in the LUC could lead to the collapse of the already burdened manufacturing sector. He stated  that the state government ought to have consulted widely before considering the implementation of the new charges law.
According to him " "The stakeholders in the manufacturing sector were not carried along adequately before the execution of the policy as the sector is already contending with a lot of challenges. One of the challenges of this policy is that, if allowed to stand, other states in the country will soon begin their own increment of the LUC" he said.
The MAN president pointed out if the increment  was not  reversed,  it would affect the cost  of finished commodity, thereby  becoming  too exorbitant for Lagosians to afford.
He further noted that the new charge negates the Federal Government's initiatives for the spread of locally manufacturing companies in the country.
On his part,  the convener of the  Coalition of Real Estate Investors and Surveyors in Lagos,Mr. Ayokunle Gregory,  after a closed-door meeting of the Coalition,expressed dismay over what he described as  misinformation going round about the new charges.
In his words, "We feel obliged to address the falsehood from a professional perspective before the unsuspecting public is misguided to the bewilderment and violation of the law. The newly implemented LUCL 2018, is a repeal of the Land Use Charge Law 2001 (the LUCL 2001) that lacked clarity on the formula used to derive an accurate rate.
"Also, under the old law, the LUC rate was totally inaccurate and retrogressive which deprived the state of keeping track of all economic activities that relate to land in Lagos State."