By Victor Ahiuma-Young
ABUJA—UNITED Labour Congress of Nigeria, ULC, has demanded thorough investigation of N30 billion fraud allegedly perpetrated by the last board of Nigeria Social Insurance Trust Fund, NSITF.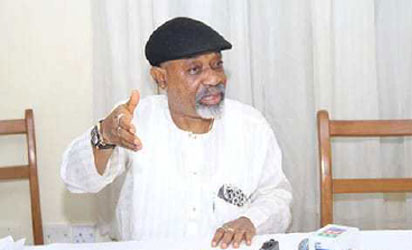 While commending the Minister of Labour and Employment, Senator Chris Ngige on his decision to probe the NSITF and unearth the rot said to have been going on for years, ULC, however warned that the issue must not be swept under the carpets, but that culprits must be brought to book.
A statement by ULC's General Secretary, Comrade Didid Adodo, reads in part: "ULC wishes to state categorically that we support this probe and any other action the Honourable Minister will take to sanitize the agency and make it fulfill the aims and objectives of its existence. Hearing the rot and the plundering that has taken place in that agency is enough for any right thinking organization and comrades to support a major probe that will not only unearth what has taken place but to also bring the perpetrators to justice.
''This Fund which was set up to bring sucour to the working class has been looted over the years making it unable to fulfill the reason for its establishment. The current probe is therefore a welcome one and we hope that after the probe, NSITF will be put in proper shape to deliver on its mandate. We call on government to do a detailed investigation on the fraud in NSITF and Trustfund, as no stone should be left unturned. These two bodies have workers' funds, their life savings and in this era of fight against corruption, there should be no sacred cow."
Corroborating the General Secretary, ULC Deputy President, Comrade Igwe Achese, demanded to know the roles representatives of Labour and Private sector on the board of NSITF played in the alleged fraud, saying: "the probe should be extended to the Board members that served in the last tenure and that they should be arrested by the EFCC and relevant security agency for prosecution.
''We need to know roles and actions of all the Board members, including the representative of Labour when the fraudulent activities took place as they were supposed to represent workers interest.''
If the representatives of Labour were involved, Nigerian workers should rise up against the Board members for not protecting their hard-earned    life-savings."
He added that "the Board members did not do well in protecting the workers savings, which led to the high magnitude of fraud and embezzlement, therefore, they should be made to face the wrath of the law."
Subscribe for latest Videos