By Chris Onuoha
In recognition of the roles of women in the society, a clergyman Reverend Father John Damian Adizie has called on the government and the entire populace to accord women their statutory rights, noticing their impact and contributions to the sustainable development goals of the United Nations initiative.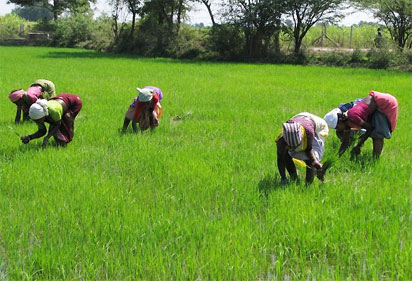 The Catholic priest who is the Director of International Youth Empowerment and Rehabilitation Centre (IYERC), in Ekpoma Edo State in a statement today said that there's no better way to celebrate women all over the world as they mark International Women's Day today than to look inwards and positively recognise their huge impacts as home builders, peace makers and larger contributors of agro economy globally.
Rev Fr. Adizie who is also an advocate of gender equality and rights of women said, "Having lived and worked with women at the rural areas I have come to realize that this group contributes immensely to the development of any society today.
It's a proven fact over eighty percent of the food consumed in urban cities were produced by women   at   the   rural   areas,  yet they are not given adequate attention. But with the theme of this year's international women's day, the rights and activities of women that make up this category comes to focus. As the theme rightly indicates, "Time is Now: Rural and Urban Activists Transforming Women's Life," each phrase in the theme is pregnant with meaning, therefore, time is now."
Stressing on the right time, the clergyman quoted the scripture book, describing 'now' as the right time.
"When the right time came God sent his son born of a woman to come into the world for the salvation of mankind" (Galatians 4:4). It was through a woman therefore, that the Saviour of the world came into the world. As St. Paul rightly wrote, Now, is the accepted time, now is the day of salvation." (2 Corinthians 6:2).
Therefore, now is the right time to recognize women all over the world. A right time to engage women in developmental activities including rural areas. It is also the right time to uphold gender equality and raise women activists. Now, indeed, is the right time to uphold women transformation and be repositioned for leadership roles.
"Talking about transformation, the rural woman need urgent transformation in the area of supply of modern and mechanised agricultural tools to produce more food. Other basic infrastructures such as good roads, electricity, health centers and even recreational centers wiil facilitate healthy living and prevent urban migration.
Adequate water supply which is among the focus of UN Sustainable Development Goals is very vital. Women in most of these agrarian areas lacks portable water which militates against health challenge they face, that also affects productivity. Women trek miles away to rivers and streams in search of clean water. If boreholes could he provided for them, it will certainly reduce their suffering."
"With proper education a woman  will be exposed to her fundamental human and civil rights. She will also know the importance of leadership and how to get involved at all levels. Gender equality, rights of women and women empowerment are among the just cause which every women activist must take into consideration."
Meanwhile, Fr. Damian Adizie stated that in other for most of these needs to be achieved or be implemented, women on their own, should step up effort to actualise it.
"As the saying goes, heaven help those who help themselves. We want to equally use this medium to encourage our women to raise their voices when and where necessary. They need to raise their voices and cry out against every form of injustice and oppression against women. This can be achieved by women mobilizing themselves into action and into peaceful demonstrations. Women can as well project their voice and interest through the mainstream media and even social media. This is what women activism is all about.
I believe, this is the right time to let the world feel the impact of women in our society. This is the right time to put into practice all the discussions on women empowerment. And of course this is the right time to involve women at the rural areas in any discussion or projects that has to do with them.
This is the right time to ensure that whatever that is due to women at the rural areas does not just end up in the hands of few greedy elects who have no interest of women at heart. This is the right time to celebrate our women for the various contributions in the society. It is indeed   the right time to wish all of you present   happy International Women Day celebration.