By Henry Umoru
ABUJA—Senator Obinna Ogba, senator representing Ebonyi Central, had said he has evidence of an alleged plan by former Chairman of Northern Senators Caucus and ex- governor of Nasarawa State, Senator Abdullahi Adamu,  against Senate President, Dr Bukola Saraki.
Meanwhile, Adamu has replied the Senate over allegations that he was plotting to destabilise the upper chamber and remove Senate President Bukola Saraki, saying he was not afraid of anyone who thinks that he may have offended him.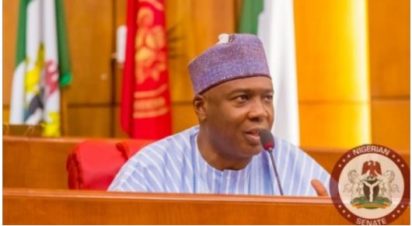 Speaking with journalists, yesterday, on phone, Senator Adamu, who noted that it was rather too late for him to seek the office of the Senate President when he did not show interest for the position in 2015 prior to the inauguration of the 8th Senate, said such accusations were quite amusing, adding that he will come clean after appearing before the Senator Samuel Anyanwu (PDP, Imo Eas)t led Senate Committee on Ethics, Privileges and Public Petitions.
Adamu is one of the senators who kicked against the amended election timetable for 2019.
He was later removed as chairman of the Northern Senators' Forum after being accused "financial mismanagement and maladministration."
Speaking on the floor of the Senate, yesterday, Ogba said he had a transcript of Adamu speaking with other people about his plans.
He said: "I rise this morning  (yesterday) to bring to the notice of the Senate that there is a plan by some people in this Senate, maybe under the leadership of my distinguished colleague, particularly Senator Abdullahi Adamu.
"Now, I have reliable information that some people are already planning to destabilise the Senate, including the Senate leadership by organising demonstration of which money is already exchanging hands.
"I believe that all of us are all leaders in this country and everybody who sees something that will destabilise the country or the Senate or even the democracy should avoid it."