By Nkiruka Nnorom
Investors in the Nigerian Stock Exchange, NSE, lost N506 billion of their investment this week following price loss in 60 companies.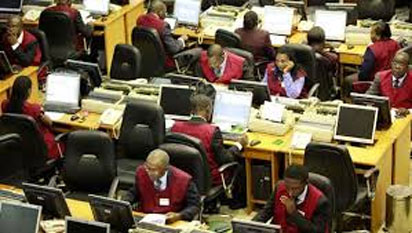 Some of the companies that depreciated in price include Japaul Oil and maritime Services Plc, Fidelity Bank plc, Unity Bank Plc, Africa Prudential Plc and Regency Alliance Insurance Company Plc among others.
As a result, the equities market halted its two consecutive weeks of gains, with the All Share Index, ASI, plunging by 2.85 percent to settle at 41,935.90 points from 43,167.86 points.
Similarly, the equities market capitalisation, declined by 3.26 percent to N15.002 trillion from n15.508 trillion, resulting in N506 billion losses to investors.
Further analysis shows that the banking sector posted the highest losses at 9.79 percent following losses in Zenith Bank Plc and Guaranty Trust Bank, despite broadly positive corporate releases during the week. The oil and gas followed, falling by 1.64 percent, while the consumer goods and industrial goods sectors were down 1.59 percent and 0.24 percent respectively.
On the flip side, the Insurance sector rose marginally by 0.25 percent.
Japaul Oil, which led the losers, depreciated by 30.93 percent to close at N0.67 from N0.97. Fidelity Bank declined by 22.48 percent to close at N2.31 from N2.98, followed by Unity Bank Plc, which fell by 21.51 percent to close at N1.35 from N1.72 per share.
Africa Prudential Plc placed fourth, declining by 20.20 percent to close at N3.99 from N5.00, while Regency Alliance Insurance was the last on the top five losers with 20 percent decline to close at N0.28 from N0.35 per share.
On the other hand, 25 gainers emerged this week led by ABC Transport Plc with 14.29 percent increase to close at N0.48 from N0.42. John Holt Plc ranked second, appreciating by 12.50 percent to close at N0.54 from N0.48; NEM Insurance Plc ranked third, rising by 11.57 percent to close at N2.70 from N2.42; Cutx Plc was up 9.80 percent to close at N2.69 from N2.45, while NPF Microfinance Bank Plc rose by 9.19 percent to close at N2.02 from N1.85 per share.