By Dapo Akinrefon
ADO-EKITI—GOVERNOR Ayodele Fayose of Ekiti State has alleged that the rising wave of insurgency in the country is a manifestation of internal aggression and not external.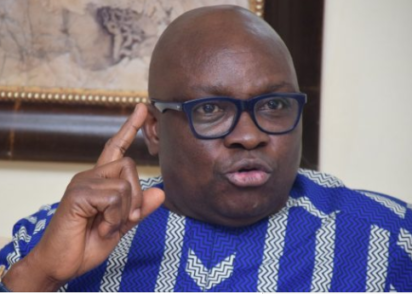 Governor Fayose, in a statement by his Chief Press Secretary, Mr Idowu Adelusi,  yesterday, said that the  Federal Government's alleged failure to tackle the rising wave of insecurity over time and adoption of an option of paying ransom are indications that insecurity challenge has become an internal problem caused by those who are allegedly profiting from it.
He said: "We don't have external aggression but an internal one. We are calling on the international community to look beyond Boko Haram or herdsmen. The international community should come for fact finding and dig deeper into the killings in Nigeria. This is beyond what Boko Haram or herdsmen are doing. It is more of what the government have failed to do on time. Nigerians are becoming helpless. Benue people need international intervention, they need support. We want to believe that the President has lost it. His approach has been cosmetic.
"How would you want us to believe that the Nigerian Army cannot engage herdsmen, cannot engage Boko Haram? It seems that the reason for the coming of President Buhari to secure Nigeria has been defeated in all areas,   corruption and fight against Boko Haram to secure Nigeria among others.
"You can all see the situation; Nigerians are angry and hungry on daily basis as they are being killed by their own brothers."
Besides, the governor wondered why the federal government is unable to take a stand to engage the herdsmen alleging that "they (herdsmen) flaunt their weapons on the social media and the government look away." He said: "Currently, the APC government led by President Buhari is paying lip service to the challenge of security of book Haram and herdsmen."
Fayose urged Nigerians to challenge the President to act decisively, saying: "Steps must be taken, Nigeria must realise that if we fail to challenge the government on this, it would be a sad story for the coming generation."
"Personally, I am worried as a Nigerian, that we are no longer save in our father land", he said.