By Joseph Erunke
ABUJA—AS the Joint Admissions and Matriculation Board, JAMB, begins the conduct of the 2018 Unified Tertiary Matriculation Examination  Friday, Imo State has recorded the highest number of candidates that registered for the exercise,with a total of  92,890 candidates out of the 1.6 million candidates that are participating.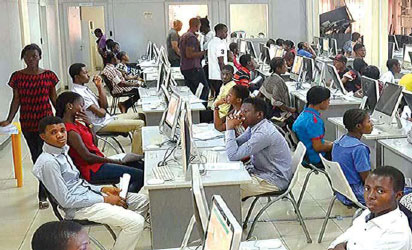 Oyo and Osun states trailed behind with  86,695 and  86,044 registered candidates respectively just as Sokoto,Zamfara and the Federal Capital Terriyory, FCT have lowest registration with 13,456, 10,077 and 6,418 candidates in that order.
JAMB Registrar, Prof. Ishaq Oloyede, who released the candidates' registration table at a press conference in Abuja,  yesterday said the board recorded a decrease of 55,642 applications, representing 3.2 per cent in the sale of 2018 UTME application forms   compared to that of 2017.
Prof. Oloyede also disclosed that 367 visually impaired candidates, were expected to sit for the examinations, saying the figure was higher than previous years.
He identified stiffer and innovative measures introduced in the system to forestall multiple registration and other illicit practices by prospective candidates by the board as reason for the decrease.
He said the board under his administration would maintain the culture of transparency, professionalism and global standards.
Recall that the nation wide exams is scheduled to hold simultaneously in the 602 Computer Based Test, CBT centres approved by JAMB across the country between  March 9 and 17.
"At the end of the two months application window, we realised that 1,662,763 candidates registered for the 2018 exam. This was contrary to 1,718,425 candidates that registered for same exam within a month and two weeks period in 2017,"he said.
He reminded both candidates and invigilators of the ban on certain items, including: wrist watches, calculators, Bluetooth devices, smart lenses and several others.
Prof. Oloyede warned candidates against patronising syndicates who have positioned themselves strategically to lure and defraud them with "mouth watering" offers and scores.
"The 2018 UTME will be conducted in 602 centres across the nation. The examination is scheduled to commence from  Friday, 9th March and end on  Friday, 19th March, 2018. Every machinery has been put in place to ensure a smooth conduct.
"The figure for 2018 shows a decrease of 55,642 applicants when compared with last year's figure of 1,718,425, representing a decrease of 3.2  per cent.
"Findings also revealed that the drop in the number of candidates for this year's UTME is largely due to measures put in place by the Board to forestall multiple registrations and other unwholesome registration practices by candidates.
"A total of 367 visually impaired candidates registered for this year's examination as against the 201 last year."