By Chidi Nwokpara
 Chief Ikedi Ohakim is primed to contest again for the Imo governorship seat. Many people have not ceased to ask what he forgot in Government House, Owerri. Ohakim answers the question in this interview.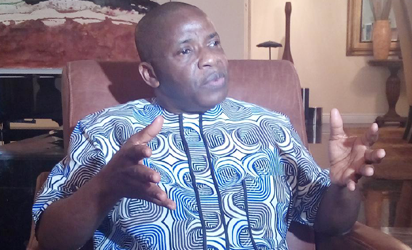 It is no longer news that you angling to return to Government House, Owerri. What did you forget in Government House?
I laugh when I hear people, including the present state government, say that I am coming for vengeance and Ohakim wants to come to loot. What am I coming to loot? There is nothing to loot. Imo is bankrupt. If a state cannot pay salaries, that state has gone bankrupt. Imo is owing more than N200 billion in debt. Imo has no asset, right now, which it can pledge for money. The whole place is completely down.
The public service has been destroyed. The judicial system has been destroyed. Education has been destroyed. The environment has been destroyed. The transport sector is non-existent. There is no maintenance culture. There is no quality project or programme.
In sports, we have gone down irretrievably. This is a state that our football club played final, in 2009, in Lubumbashi and came second in African Cup of Champions. This is a state, in 2008, we won number one in National Sports Competition in Kaduna. This is a state that has produced all sorts of quality sportsmen and women.
Today, sports have collapsed. Today, our Dan Anyiam Stadium Complex has collapsed. All other stadia have gone moribund.
Having put the scenario in true perspective, I want to say that I harbour no adverse sentiments against anybody or group. As a human being, I do not believe in vendetta. I have no scores to settle with anybody. My driving force has always been hunger for service and to bring happiness to the greatest number of people.
Do you, in all honesty, have any advantage over other aspirants?
My answer is emphatic yes. The advantage I have is that I joined the learning curve experience. I do not need to learn the ropes again or begin to talk about how to solve the myriad of problems foisted on the people by the present administration.
How do you do this?
I have a practical template on how to make the economy of Imo to begin to grow again. I will grow the internally generated revenue of the state beyond the pay as you earn. I will recreate the middle class, which is the engine room of economic growth. I am going to restore the participation of the state in counterpart funded development programmes and attract more. Imo has completely lost out in all the counterpart funded development programmes, both from international communities and the Federal Government, because they demand due process.They demand things to be done sequentially. And these things to be done require human intellect and a robust civil service. We have lost out on all those ones.
We will reintegrate the state to many development platforms that are available for agriculture and infrastructure. We will update specifically in the rural communities, small scale enterprises, support funding and development of cottage industries. Remember that we came in earlier and introduced what we called Enterprise Free Zone, the first was the one we installed in Owerri West, which many people called "Ogbo Osisi (wood cluster)", when we relocated them. We were to replicate that particular programme for traders, technicians with police station with water, learning infrastructure and training etc, under one roof. Remember that we provided them with a 500 KVA generator. Welders there had no problem with power supply.
There is palpable speculation that government properties have started developing wings. Do you have antidote for this?
We will set up committee that will take inventory of government property and ensure that all needed recoveries are made with despatch for the benefit of the people of Imo. This will be done without the business of the state being impaired by avoidable distractions.
What new thing are you coming with?
A lot. We will revisit and resuscitate the hospitality and tourism development programme of government, which holds hope and message for our people. We need to create a lot of jobs through the hospitality industry. We will hit the ground running from day one and begin to repackage the redevelopment of the Wonder Lake Resort in Oguta. This particular project is capable of creating more than 5,000 jobs.
What is your take on free education?
We will retain free education in those areas that we require free education but we are going to come up with qualitative education. The curriculum need base that assure accreditation for all the courses offered in our tertiary institutions and technical colleges. You will recall that when came on board, we ensured the reaccreditation of 70 courses we lost in our technical colleges and reaccreditation of five courses in our tertiary institutions.
We upgraded the college of agriculture in Umuagwo, from a college that offered only eight courses to a Polytechnic that offered 18 courses, all accredited.
Where do you stand on the massive destruction of markets in the state?
No sane person will not be aggrieved by what is happening. People's means of livelihood have been mercilessly and carelessly destroyed. Innocent lives were sadly lost in the process of destroying the markets. Could there not have been a better way of upgrading the markets, if that was government's idea? Must human blood flow for the sake of market upgrade? Women, especially widows, were the worst hit by the present government's mindless action in these markets.
Market women, who have suffered the brunt of this administration by having their markets, their wares and means of livelihood destroyed, will receive credit at liberal terms to grow their businesses. We will grow a synergy between the market women, town unions and such organizations that are traditional to Igboland. These are the things we are going to come back with.
Sinking of private boreholes seems to be fashionable in Imo State now. Where do we go from here?
Water schemes have been abandoned. There are 1,950 abandoned water schemes in Imo. We have drawn out programmes to rehabilitate all of them.
The problem we will have in Owerri is that all the major water pipelines are buried. We will call out our engineers to take a critical look at the situation and tell us what must be done with those pipelines. They must decide on whether we should escavate them or find a method to bring back water to our people.
The huge debt hangover, which you mentioned earlier, is troubling. What led to this?
**From the statistics we have, right now, we have about N9 billion judgment debts against Imo State Government. Because of lack of law and order, the state government does not obey contractual agreements. You will recall that throughout my stay as governor for four years, there was no single judgment debt, because we obeyed all contractual agreements. We gave jobs that we could pay for. Now it is very painful that a governor will give somebody a job with mere words of the mouth, the fellow will go ahead to execute the project and there is nothing to show that somebody was given a contract at any time. These are different ball games. But there are those who entered into proper contract, executed the jobs and earned certificates and they have not been paid, and the jobs taken over and given to another person. Most of the contractors are dead. The critical thing about judgment debt is lack of focus, criminality in thinking that a governor is an emperor or that Imo is conquered and that the state belongs to an individual; that the state is a war trophy offered to you for winning a war.
A governor is the servant of the people. A governor is a man or woman, nominated by the people to do things for the common good, while the citizenry pursue their life. The governor is expected to obey the Constitution of the Federal Republic of Nigeria and other laws. Now, if a governor goes out of this norm, the courts will begin to pronounce that the fellow is not observing the rule of law.
Apart from the judgment debts, there are more than 250 on-going court cases against the Rochas Okorocha administration.
The governor and his lieutenants have severally challenged you to publish your achievements in office. Can you do that now?
This demand from Okorocha and his acolytes is laughable. How can a government I handed over ask me to publish my achievements, when I gave them a 300-page handover and I detailed all my achievements, all the income I received as governor, what I did with the money? They are all in the document and they are asking me to publish my achievements. I don't know what they mean by that. That means, as at today, we do not have a government in Imo State. We only have a contractor and may be a project manager, who builds halls from his head. The office where he administers the state from was built by me. And I even had a 50-page summary, so that if he cannot read the huge volume, he can read the summary and know my achievements.
The total income I had as governor of Imo was not more than N240 billion and he has received N1.3 trillion as governor in seven years. I did not put Imo in a single debt. Rather, I was repaying the debts owed by previous administrations. And the excess we paid is what they are receiving as Paris refunds.
I went to the Capital Market to borrow money for the development of our state. And before I left office, out of the N18 billion I received, I had already paid back over N10 billion. And I left N26.3 billion for him. And that money has never been captured in any appropriation between 2011 to the present time.
So, Ohakim's achievement is everywhere. We put smiles on the faces of Imo people. If you go to the Federal Medical Centre, Owerri, you will see our achievement. You cannot see any Imo son now, hanging his leg in the Orthopedic Ward. We were able to do away with commercial motorcyclists. And we did it in a beautiful way. Nobody went to court against us and we came up with a revolution in the transport system.
If you see the road we built in Okorocha's village and a spur to his gate and somebody will be coming out from Ogboko and asking me what I achieved. We obeyed laws. We were not corrupt. No single contract failed in our administration. We did not take any contract ourselves. All the contractors were known.
Look at the bridge we built across Nworie River and compare it with what Okorocha built across the same Nworie. It has killed Nworie.
Finally, did you, for any reason, assault a Catholic priest or asked anybody to do this on your behalf?
It is unthinkable in Christian religion. I am not a heathen. I am a pure Christian and a Knight of the Anglican Communion.
Up till now, people have not asked the priest if I saw him or beat him up. The man who composed a song around the alleged incident shed tears when he discovered the truth. A number of Catholic priests have come to me to apologize. Rev. Fr. Ejike Mbaka has equally reversed whatever he helped to push out at the peak of the dangerous rumour and I have put it behind me.
I did not see any Reverend Father and I did not beat or even talked to any Reverend Father facially, abusing him. That is the type of politics our people played. You are talking about Reverend Father, but they said so many ugly things.
Rochas Okorocha even accused me of spending N150 million on Champagne daily and if you multiply N150 million by 30 days, and you look at our income in Imo State, you cannot believe it.