In this oncluding part of this report which was first published last Friday and continued yesterday, Prof Oyewo, former dean, Faculty of Law, University of Lagos and Norrison Quakers, SAN, continued their narratives on why delayed trials persist and the way forward
By Mike Ebonugwo & Bartholomew Madukwe
BAFARAWA is being prosecuted on an amended 34-count charge of cheating, criminal breach of trust and diversion of public funds to the tune of over N15 billion. The money was allegedly misappropriated when Bafarawa held sway as the governor of the state between 1999 and 2007.
Upon arraignment in December 2009, Bafarawa and his co-accused pleaded not guilty to the 47 counts preferred against them.  The case was adjourned to  March 15 and 16,  2018  for the accused persons to open their defence.
SAMINU TURAKI-  JIGAWA:  Charge: Alleged misappropriation of N36 bn while in office
Saminu Turaki is a former governor of Jigawa State, who served two terms from 1999 to 2007. He was first arraigned by the EFCC before Justice Binta Murtala Nyako of the Federal Capital Territory High Court on July 13, 2007 on a 32-count charge of misappropriating N36 billion while in office. Following his arraignment, he was granted bail in the sum of N100 million with two federal legislators, Bawa Bwari and Bashir Adamu, standing as his sureties.
In 2011, the case was transferred to the Federal High Court, Dutse after the accused successfully challenged the jurisdiction of the FCT division of the court. He was subsequently re-arraigned on the same 32-count charge in Dutse.
JOSHUA DARIYE-  PLATEAU:  Charge: Alleged defrauding the state of about N1.6 billion
Status of case: To face trial at  the Supreme Court
Joshua Dariye, a  former Plateau State Governor, assumed office on May 29, 1999 .  He was re-elected for another four-year term starting in May 2003, and was impeached in November 2006 though the impeachment was nullified by the Appeal Court in March 2007, a decision upheld by the Supreme Court the following month effectively returning Dariye to office for the remainder of his tenure.
However, on July 13, 2007 he was brought before an FCT High Court in Gudu on a 23-count charge preferred against him by the EFCC for defrauding the state of about N1.6 billion. The trial judge, Justice Adebukola Banjoko, adjourned to  December 7, 2017  "for adoption of written addresses".
Dariye then proceeded to the Supreme Court to quash the charge that began on July 13, 2007. The Supreme Court, however, dismissed his application on February 27, 2015 and ordered him to go face his trial.  His trial recommenced on January 25, 2016.
JOLLY NYAME-  TARABA STATE:  Charge: Alleged misappropriation of Taraba funds to the tune of N1.64 billion
Jolly Nyame was Governor of Taraba  from May 29, 1999 to May 29, 2007. He earlier served as governor of the state from January 1992 to November 1993. Nyame is facing trial for alleged misappropriation of state funds to the tune of N1.64 billion during his tenure as the governor (1999-2007).
The trial commenced on January 23, 2018, in the Gudu division of an FCT High Court. The presiding Judge, Justice Adebukola Banjoko, adjourned the trial to February 28, 2018, to give the prosecution and defence time to complete the processes.
SULE LAMIDO-  JIGAWA STATE:  Charge: Alleged abuse of office and money laundering
Status of case: Adjourned pending the reassignment of the case by Chief Judge of FHC
Sule Lamido served as Foreign Affairs Minister from 1999 to 2003. He was elected governor of Jigawa State in April 2007 and took office on May 29, 2007.  Lamido is being prosecuted by the EFCC on a 27-count charge bordering on abuse of office and money laundering, before Justice Babatunde Quadri of Federal High Court in Abuja.
Money laundering
He appeared in court on Monday, January 29, 2018 for the corruption trial. After sitting, the court adjourned the case to an unspecified date, pending the reassignment of the case by Chief Judge of the Federal High Court.
ALIYU DOMA —  NASARAWA STATE: 
Charge: Allegedly laundering state funds to the tune of N8bn
Aliyu Akwe Doma  was elected governor of Nasarawa State  in May 2007.  He was  prosecuted by the EFCC on a 10-count charge bordering on money laundering and financial crimes.
He was accused of having between January 2007 and December 2009 allegedly conspired and fraudulently laundered state funds to the tune of N8bn, an offence contrary to Section 14(1)(a) of the Money Laundering (Prohibition) Act 2004 and punishable under section 14(1) of the same Act.
 IKEDI OHAKIM-  IMO STATE:  Charge: Allegedly making cash payment of $2.29 million for land
Ikedi Ohakim, after winning a rescheduled election in April 28, 2007, became governor of Imo State. The charge against Ohakim arose from his alleged purchase of the property at 60, Kwame Nkrumah Street, Plot No 1098, Cadastral ZoneA04, Asokoro District, Abuja with cash payment of $2.29m which was said to be dollar equivalent of N270m in November 2008.
The charges against him border on money laundering, abuse of office and misappropriation of public funds.
The  Abuja Division of the Federal High Court, however, deferred Ohakim's arraignment last year, October 5, following an application for his re-arraignment. The matter was heard by Justice Adeniyi Ademola until the judge withdrew following allegations of fraud against the judge himself last year.
OLISAH METUH – PDP National Publicity Secretary
Erstwhile National Publicity Secretary of the Peoples Democratic Party, PDP, Chief Olisa Metuh,  has been facing corruption charges in court since 2016.
Metuh is answering to a seven-count criminal charge alongside his firm, Destra Investment Limited.
EFCC is prosecuting him over allegation that he had before the 2015 Presidential election, received N400million from the Office of the National Security Adviser, ONSA, without executing any contract.
The agency alleged that the fund was electronically wired from an account that ONSA operated with the Central Bank of Nigeria, CBN, to Metuh, via account no. 0040437573, which his firm operated with Diamond Bank Plc.
It told the court that the fund which was released to Metuh and his firm by detained former NSA, Col. Sambo Dasuki, retd,   was part of about $2.1billion earmarked for the purchase of arms to fight insurgency in the North East.
Besides, the prosecution which had earlier closed its case after it called eight witnesses that testfied before the court, equally alleged that Metuh was involved in an illicit transaction that involved the exchange of $2million.
So I am saying that the prosecuting agencies are making progress now, unlike before. If you examine some of those cases, majority of them have reached advanced stages. The ploy to delay cases or securing stay of proceedings for eight or 10 years is no more possible".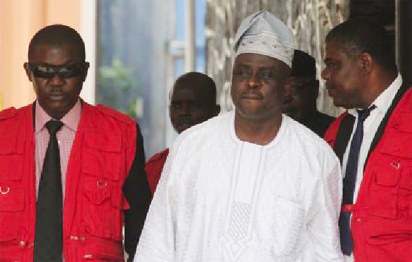 Delay caused by technicalities of the law; cases should be properly investigated–Prof Oyewo
But for Prof Oyelowo Oyewo, former Dean of the University of Lagos Law Faculty, the continued delay in many political cases is basically as a result of the technicalities associated with the law and the trial itself. In his words: "Delay of criminal prosecution is the function of so many things. The first thing is the function of investigation. The current Chief Justice Nigeria, CJN, Justice Walter Onnoghe, has pointed that police should do proper investigation before they charge cases to court. If you don't have the evidence to prosecute, you have to remember that the whole essence of prosecution is not an end in itself; that you have a statistics that EFCC has prosecuted this number of cases. No! The Administration of Criminal Justice, ACJ, at the end of the day, will validate or invalidate the corrupt person and give him the appropriate measure, punishment and sanction that will back it up. To that extent, we need to have a better investigation approach to these corruption cases.
"Then, of course, you have the challenge of prosecution itself which is a function of government prosecution- EFCC lawyers and the defence counsel. We run an adversarial system of justice. The adversarial system presumes everybody innocent. You cannot presume that a governor, because he has been charged, to be guilty.
The burden of proof is for you to prove beyond reasonable doubt, and that is not an easy thing to do. Mind you, the governor will get the best available legal representation in the form of a Senior Advocate of Nigeria, SAN. That means the prosecution too must be at their best game. If they are not, then the case will be thrown out. If cases are not properly prosecuted, they will be thrown out.
"We have seen that particularly in the case of Senator Bukola Saraki before the Code of Conduct Tribunal; the matter went to the Supreme Court and came back. Now, the whole thing is in confusion because the Chairman of the body that tried him is being charged by EFCC for corruption.
"To that effect technicalities can continue to be used to delay you, knowing that the tenure of an administration is four years. Every preliminary objection is then taken to court. I think that is why we have Constitutional amendment being proposed; that interlocutory application should not go beyond Court of Appeal. That is something that is ongoing in some aspects.
"Then, of course, in the aspect of the administration of justice, we have the role of judges. You will agree with me that judges have had some kind of a tough time under the Buhari administration.
Some of the judgments that have been coming from the Court of Appeal particularly seem to be against the stand of this present administration. There are so many factors that are militating against the smooth prosecution and conviction of governors in our criminal justice administration.
Conviction of governors
"It also has to be acknowledged that Buhari's administration has shown the willingness to confront corruption, like we saw in the case of a certain Akinjide who settled out of court. Before the settlement, N650 million has been returned to government. It seems that the approach of EFCC has been to recover these monies. If you look at it, it is not as if no action is being taken for conviction.
"Asset recovery has been one of the areas that the EFCC has been very successful under the Buhari's administration. All looted funds that were buried in gardens, those that were in the toilet or ceiling, all of them have come out- through this EFCC approach.
"I think this administration has done better than previous administrations. The only challenge has been conviction. Without this conviction, you have the same people run from one office to the other, from Senator to Governor. If they have gone from Senator to Governor, they have the power to influence, such that it will even affect the trial.
"There should be a constitutional amendment that if a person occupies an office as governor for two terms, there should be at least a settlement of account before they continue in another office or tenure. Saraki, for instance, went from governor to senator and became the President of the Senate.
This is a position that can thwart any process of criminal administration. We need to amend our Constitution to be able to deal with such issues that will allow and enhance Criminal Justice Administration, particularly in the fight against corruption."
High profile political trial cases still pending in courts
Continues from yesterday's issue
Owing to his absence in court for continuation of the trial, EFCC, at the last adjourned date, applied for his bail to be revoked, adding that he should be made to attend the court's proceedings from prison.
COLONEL SAMBO DASUKI (retd) – was National Security Adviser to former President Goodluck Jonathan. He was appointed NSA on June 22, 2012, following the removal of General Owoye Andrew Azazi
With the inception of the Buhari administration, he was  arrested in the morning of December 1, 2015 by the Department of State Service s, DSS, and has since been standing trial for allegedly mismanaging $2.1 billion meant for the purchase of arms to fight Boko Haram insurgents. Dasuki was specifically accused of awarding phantom contracts to buy 12 helicopters, four fighter jets and ammunition.
In the charges brought against him, he was also accused  of  unlawful possession of firearms. But he denied and has continued  to deny all the allegations.
In fact, his supporters and most  members of the PDP have continued to express the belief that Dasuki is being persecuted by  the Buhari government on account of the role he allegedly played in the 1985 military coup. And as if to reinforce this conviction, he has  remained in detention even after being granted bails by at least four separate High Court Judges.
They are, Justice Adetokunbo Ademola and Justice Ahmed Ramat Mohammed of the Federal High Court, as well as Justice Hussein Baba- Yusuf and Justice Peter Affen of the FCT High Courts.  The ECOWAS Court of Justice had also at a point ordered for his immediate release with compensation of N15 million for the unlawful and illegal detentions without legal warrant or court orders.
To be concluded tomorrow