By Vincent Ujumadu
THE Indigenous People of Biafra, IPOB, Sunday described the call by the former Minister of Defence, Lt. Gen. Theophilus Danjuma for people to defend themselves from Fulani herdsmen attack as belated and parachorial.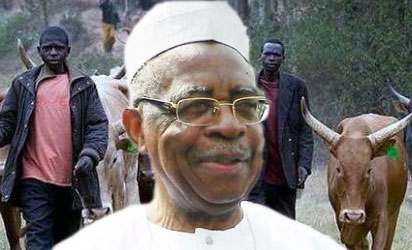 IPOB Media and Public Secretary, Comrade Emma Powerful, who said Danjuma was crying over spilt milk, observed that the former Minister was seeing now was what IPOB leader, Mazi Nnamdi Kanu saw many years ago..
According to him, if people like Danjuma, who, he added, vilified Kanu then, had supported the IPOB leader's view, Nigeria would not have degenerated into a state where life meant little or nothing.
The statement read in part: "Today, what the supreme leader of the Indigenous People of Biafra, Mazi Nnamdi Kanu, said in 2014 is being re-echoed across the political landscape of Nigeria by no other than the very influential Lt. Gen. TY Danjuma, who can be rightly classified as part of the northern ruling elite.
"What is happening before our eyes today was foretold by our leader many years back and had those in power in Abuja listened to him rather than lock him up without trial, thousands of innocent lives could have been saved across Nigeria.
"We state without any equivocation that all those killed by marauding Fulani herdsmen and the Nigerian military that provides them covert support died in vain because people like TY Danjuma initially supported the oppressors and vilified Mazi Nnamdi Kanu instead of paying careful attention to what he was saying.
"The same way the likes of TY Danjuma from the Middle Belt have woken up to the reality of the failed state that Nigeria has become, so will South East governors, Ohaneze Ndigbo and PANDEF do in the coming months.
Assuming they will take a leaf from Danjuma and have the courage to speak the truth as boldly as Danjuma has done, but going by their previous slavish antecedents, it remains doubtful they will ever do so because of their lowly status in the affairs of Nigeria.
"Danjuma mentioned the same country as Kanu did because he can now see clearly where Nigeria is heading to. This implies that these same people who publicly condemned the style of agitation of IPOB were secretly listening to our leader all the time but stubbornly refused to do something about the injustices he was preaching against.
"Mazi Nnamdi Kanu said that Fulanis will kill, rape, burn, maim, abduct innocent citizens and nothing will happen to them. Today are Fulani herdsmen not killing with impunity with nothing being done to stop them?.
"They should not be ashamed to apologize for their shortsighted and lack of vision. Till date no single religious prophet or seer in Nigeria and beyond has come close to matching the accuracy of Kanu's predictions about events that are now unfolding in Nigeria.
"We are glad the world can testify that our leader and the movement he leads means well for ordinary people in Nigeria because an independent Biafra means freedom for all."
He called on well-meaning Nigerians to swallow their pride and come out to acknowledge that IPOB and her leader were right all along on the issue of Fulani herdsmen