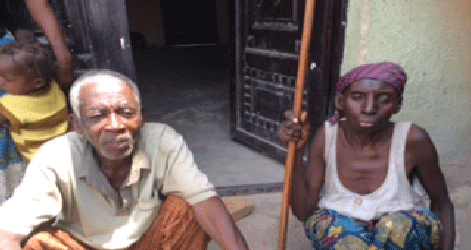 •90 year old Damsa Utur and disabled wife
90-year-old begs Buhari from Benue IDP camp
We don't want to die here
BY PETER DURU, MAKURDI
This is certainly not the best of times for the aged and elderly   in communities mindlessly invaded and sacked ceaselessly by herdsmen in Logo and Guma local government areas of Benue state.
It started from January 1 when the state was thrown into a quagmire and bloodletting of highly imperious and far reaching proportion.
These group of persons popularly referred to as the bastion of wisdom who constitute over 20 percent of the over 170,000 persons displaced by the incursions of herdsmen in close to 50 Benue communities affected by the crisis, were forced out of their ancestral homes by the devastating bloodbath that has left the entire state in despair.
These senior citizens who have seen the better part of their sojourn on earth live a life of the weak and fragile and deserve to be treated with care.
Regrettably, since January 1 when the bloody killings in the communities of Guma and Local government areas of the state started, these group of persons who, given their status, are in dare need of sustained medicare and support have been forced into a life of abject misery in eight camps of Internally Displaced Persons, IDPs. The camps were created in by the Benue state government to cater for the need of victims of the crisis.
Several of them in their state of fragility who spoke to Saturday Vanguard were yet to come to terms with what has befallen them and their children in a pogrom that has created a huge humanitarian crisis in the state.
They collectively held that the invasion of their communities by herdsmen who wantonly killed their children, raped their wives and daughters and razed their homes, farmland and food barns was the most dehumanizing encounter ever experienced in their entire life time.
The heartrending stories of these seniour citizens who recounted how they escaped the butchery of marauding herdsmen even after loosing their children and loved ones to the crisis have brought to the fore the urgent need to have them relocate quickly to their ancestral homes to live in peace before their due time to bid the earth farewell.
In all the camps visited, it's same mind-burgling tale of despair, hopelessness, anguish, extreme haplessness and distress by these group of persons who deserve much better befitting reverence for a people of their ages.
Narrating his ordeal to Saturday Vanguard, 80 year old Athanasius Gida said he narrowly escaped alive from his ancestral home at Tse-Agbe Guma local government area, few days ago with his four children, five grandchildren and two wives when armed herdsmen sneaked into the community at night shooting sporadically and razing buildings and huts in the village.
"When they came, my children and grandchildren carried me and their mother on their backs while my younger wife ran with her children.
"We ran for close to two hours all through the night until we got to a safe area when it was almost morning and we luckily made it to this already overflowing camp.
"Since arriving here, my family and I sleep outside because the camp is already housing more than its capacity and we are yet to get a sleep space.
"In this camp we have only 16 toilets for these thousands of people, so most of us defecate in the open including our children with its attendant health hazards.
"Though we get food to eat but the truth is that the condition here is not what I desire at this age when I'm supposed to be in my house till my time to meet my creator."
"I am pleading with the federal government to direct the military to chase away the herdsmen who have taken over our communities so that we can all return to our homes.
"The state government is doing so much to help us but we heard that Governor Samuel Ortom has no control over the military and can do little when it comes to giving directives to the soldiers posted to the state to help us.
"If that is not done and quickly too, I'm afraid many of us including our children may die in this camp. I pray that this crisis does not lead us to that point"
On his part, 90 year old Damsa Utur who spoke as he fought back tears, said herdsmen slaughtered his 50 year old son Shior at his farm early January when they struck at Tse-Ukpam village.
According to him, "it was few days into the new year, when herdsmen came to our village in the morning when most of our people had gone to the farm.
"They came shooting sporadically and living anything or person they saw they shot or butchered with their knives. My son was one of those they killed he was in the farm that morning with his children. While my grandchildren escaped, my son was no so lucky. They caught up with him and beheaded him.
"When we all managed to escape I later realized that my son was killed with several others they caught. My world was almost coming to an end but I summoned courage and ensured that I retrieved his corpse and gave him the burial he deserved.
"I had thought that my first son would bury me because I'm almost at my exit point, but herdsmen took him away when I needed him most.
"I am a helpless man but God is my source of strength. I am only begging President Muhammadu Buhari to come to our aid by availing us some form of compensation. Our homes and farms have been destroyed and our communities have been taken over by herdsmen.
"All we desire now is to go back to our villages. We cannot continue to live like this. I want to return to my village with my family so that my children and grandchildren can go back to school and also engage in farming because this place is obviously not convenient for anyone despite the effort of state government and other groups who help us in the camp."
"You can also see that my wife of over 60 years is disabled and staying here is not helping her condition no matter the assistance we get for daily survival." the nonagenarian said as he fought back tears.
On her part, 68 year old widow, Mbafan Kwagh who said she escaped miraculously with her 12 children and grandchildren from Torkula village   recalled her ordeal stressing that she survived with her children through the mercy of God.
"I cannot understand how we were able to make it alive to Daudu when herdsmen stormed our village in their numbers very late in the night in the first few days into the new year.
"I was able to run with the help of my children and grandchildren and we trekked several kilometers to Daudu. It was as if a war was going on   because the sporadic gunshots were coming from everywhere and I noticed that farmland, houses and huts were on fire.
"When I could not understand the strange occurrence coupled with the shout of help I heard from the distance, I immediately woke my children and we all started running leaving all our belongings and food behind.
"We have lived in this camp since that time but we are tired of staying here because all my grandchildren can no loner go to school and we cannot access our farms.
"We heard that soldiers have been sent to ensure peace in our villages but since their coming, those who tried to get to the villages were killed so it means that we cannot go back until the soldiers chase away the killer herdsmen who are currently occupying our communities."
"Today we are in pains and hunger because we can no longer take care of needs of our children and we cannot also support our family the way we used to do. We certainly cannot continue to live on the government and donors. How long can we carry on like this?
"Please tell the federal government to arrest all those who are behind the killings in our villages. It is only when that is done that we will be convinced that the government in Abuja has no hand in the trauma we are going through in Benue."
As for 84 year old Pa James Igbaa who looked sick and frail though moved around with the aid of a stick, said he was yet to reach members of his family since the crisis.
"I am yet to reach many of my family members but some of our relatives told me that some of them were sighted in the camps at Daudu.
"I am tired of living here in the camp, I cannot continue like this, living on the help and assistance from the state government and various groups when even at my age I still go to my farm from where I make good money to give my children and family members the support and assistance they desire.
"Tell the federal government that we are disappointed in them. Why can't they stop these herdsmen from coming to attack Benue? Why can't the federal government give us reason to believe that we are still part of Nigeria?
"They claimed they have sent soldiers to our villages so that we can go back home but all those who tried to enter their villages never made it back to the camp. They were either killed or chased away by herdsmen.
"This is not the Nigeria I was born into. Today some people have come to take over our land and the federal government is turning a blind eye as if we don't have a government. But I know that God will give Benue Justice in no distant time."
it is the same narrative for the aged victims who are currently taking refuge in the eight IDPs camps in Logo and Guma local government areas since since January 1.