By Kabiru Muhammad Gwangwazo
It is pathetic how those desperate to sack the Buhari Government don't seek the right tools to fight the President. They invoke corruption as the genie to do GMB and his government in. The tar of corruption can't work.
The ranking by TI (Transparency International) placing Nigeria at an abysmally low Corruption Perception Index (CPI) for 2017 won't hold water. At inception, for GMB, fighting corruption was his key selling point.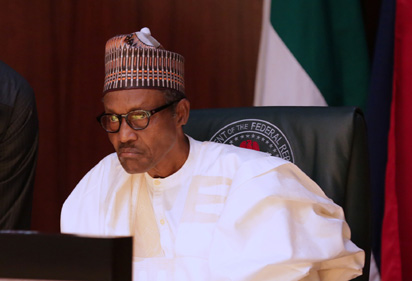 His three-item agenda had insecurity as top priority, then corruption and lastly poverty — this translates as tackling the economy. The common thread in all that GMB pledged he'd tackle was corruption. That is why he said unless we fought corruption, and "killed it dead," it will kill us all!
That was the theme of a newspaper article, published August 23rd, 2015 on "ELOMBAH News" an online newspaper, "The PYRAMID" Newspaper Online and other media. "To kill corruption is all we ask of President Buhari" was its title. By then it hadn't been authoritatively revealed that corruption was what kept the Boko Haram (BH) insurgency alive. That time we haven't had the serial revelations on military top brass and the Office of the National Security Adviser, ONSA.
Col. Sambo Dasuki was still NSA, a spillover from Jonathan's PDP. Another PDP appointee, CDS, AVM Alex Badeh was still in the GMB APC Government, and we had not yet started hearing of the hundreds of millions of Naira Badeh allegedly paid for a house for his son and more hundreds of millions to furnish it.
We had not yet heard of other military chiefs and their monies; General Ihejirika's or General Kenneth Minimah's billions and what he returned to the EFCC only last month. We haven't yet heard of confirmation of then CBN Governor SLS's claims of unbelievable pillage under Jonathan's Oily Minister Diezani. Thankfully, that $20 billion theft sacked Jonathan and his party of impunity; after they had sacked SLS leading to his date with destiny as Sarkin Kano Muhammadu Sanusi II.
Worsening Corruption Perception Index, a blatant lie
The claims by TI on corruption worsening in Nigeria under GMB is an outrage. A blatant and egregious lie, as politically targeted as the unholy terror being unleashed on the North. The same kind of terror we had under BH to balkanise us. Whose yardstick of corruption?
When TI or any anarchist analyst talks of corruption under GMB they should be asked whose yardstick they are using. The Jonathan yardstick? The Obasanjo yardstick? The PDP yardstick? Or could they be using a Buhari yardstick?
On a scale of 1 to 10, and Jonathan's yardstick, certainly the GMB Government is the most saintly ever, since PM Balewa and General Murtala's days. In such a gauge, Jonathan and PDP should be on at least minus one hundred and ten (-110).
In fact if Murtala and Balewa get 10 over 10, GMB should have at least 7 of 10. Even so, the remaining 3 points are lost to APC, and his failure to handle it appropriately. The APC as a party is largely an amalgamation sprouting from PDP's culture of impunity of yesteryears. So it can't be expected to be much different from its parentage. To confirm that GMB won't condone corruption in key areas, his own government's chief scribe "grasscutter" SGF Babachir has been investigated, sacked and faces EFCC. No government has ever indicted such a high-ranking official ever in Nigeria. Under Jonathan's and Obasanjo's PDP unless you were on the wrong page with them, you'd never be looked at twice, no matter what you did.
PDP punished whistleblowers, GMB rewards them
In fact squealers and whistleblowers, are the ones punished. Under GMB, whistleblowers get paid very well for squealing on the corrupt. In the days of PDP, CBN's Lamido Sanusi was to learn the hard way. Another Lamido, Governor of Jigawa also suffered for speaking up about pilferage and his "mistake" of indicating interest in the Presidency when Jonathan was not done with it. That was the time his insignificant infractions were zoomed on and made an EFCC issue. With Jonathan's yardstick, many other corruption cases are publicly manifest. SGF Pius Anyim's Millenium Village, Patience Jonathan's case now being tackled by EFCC out of court; and Minister Stella Oduah's issues. Not to ignore FCT Minister Bala Kaura's, who dragging in such others as ex-BBC reporter, Ms Jamila Tangaza who'd served Bala when he was FCT Minister.
Using PDP and Obasanjo's yardstick of corruption, where does GMB's Government  fit? A fair analysis would have noted the N300 billion Anenih got as Works Minister. The N300 billion was paid out of the treasury, according to news reports of the day. Yet there was no work on our roads for the sums. At the end of the noises on it what we heard was that former top cop and PDP topgun, Anenih became Obasanjo's chief campaigner in 2003. Fairness would be to recall the billions of dollars lost to Obasanjo's phantom National Independent Power Projects (NIPPs). We first knew what we lost to NIPP when Umaru Yar'adua was President. The national assembly began to poke through it before the House probe Committee Chair, Honorable Elumelu was compromised in PDP's usual style.
PDP, GMB and fuel subsidy
Yet, the Obasanjo PDP yardstick is the same one that started or boosted the infamy of fuel subsidy. Again investigating it another good man, Honorable Farouk Lawan was consumed by it. He led the House Committe special hearing on the subsidy scam. The GMB government has refused subsidy for nearly three years, even as it now faces blackmail by the subsidy scammers. From 2015 through most of 2017 there hadn't been any instance of fuel scarcity despite stoppage of the corruption-riddled subsidy regime.
PDP, Ghana-Must-Go, sale of national assets
For a comparative analysis with the Obasanjo yardstick of corruption perception have we so soon forgotten the sale of most of our national assets, NICON etc? What of the politics of Ghana-Must-Go bags in those days of infamy and impunity? Thank God for Honorable Adams Jagaba for graphically revealing on national TV how members of the hallowed chambers were induced to do the PDP Government's bidding. Even when Treasury Single Account (TSA) was decreed by the PDP it didn't have the stomach to activate it. It was GMB who got it going. Yet, this weird CPI assessment puts down the GMB Government in 2017. They plunge it lower and deeper than other publicly envisioned corrupt times and governments in the TI and allied analysts' blinkered vision.
GMB's yardstick, due process in legislature, politics
If we are to use GMB's own yardstick though, there is a lot nore that needs be done. In particular, scrupulous adherence to due process in every respect. The NASS is the approving authority for appointments. The GMB we know would allow them their right. He allowed DSS to pass a damning report on EFCC's Magu. The GMB we know would have dropped and promoted him AIG, SA or SSA in a continguous field. He'd've sent in another chief for the job.
GMB, APC tenure elongation and the party's 2019 fate
Using the GMB yardstick of integrity, it is also unthinkable that he'd countenance tenure elongation of APC, from wards up to NWC, and that after he'd asked Asiwaju Tinubu to pick up and mend the APC's breaking/broken pieces across the states. This PDP style elongation would surely worsen the Kaduna, Nasiru el-Rufai troubles and the Kogi, Yahaya Bello problems. Not to ignore Buhari's Kano where Ganduje, Kwankwaso & CPC Buharists' troubles may prove APC's death knell. The LG elections early February are proof if any was needed that Kano is not as well as local APC handlers try to project, so hard and so unsuccesfully too.
Like Senator Dino Melaye said to his opponent, Kogi's Governor Yahaya Bello: "GMB can't help you". Obviously that applies to all troubled APC Governors, not even with their manipulations ahead of 2019.