By Jimoh Babatunde
The 2018 Global Food Policy Report released recently, said the inadequacy of responses to recent food crises has revealed the need to redesign  the global food and  agricultural governance system to address problems that countries cannot   manage by themselves.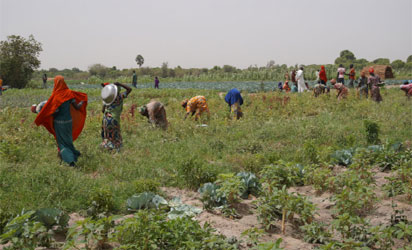 The report provides perspective on the major food policy issues, developments and decisions of 2017 and highlights challenges and opportunities for 2018.
This year's report takes an in-depth look at the recent rise of anti-globalism and what it means for the roles that global trade, investment, migration and access to knowledge play in ensuring food and nutrition security.
On how global governance reforms can improve food systems,  the report noted that as food and agricultural systems have become increasingly globalised, the governance issues related  to food security and nutrition are becoming increasingly complex, including conflict-related hunger, malnutrition, environmental risks and the politics of global integration.
"The  inadequacy of  responses to recent food crises reveals the need to redesign  the global food and agricultural governance system to address problems that countries cannot or will not optimally manage by themselves.
"Global governance can support a  range of international public goods, including standards for healthy and safe foods, international coordination of food aid  in a disaster and coordination for fair and free trade.
The report noted that given  the rapid pace of global change, governance structures must also enable food systems to be innovative and adaptable.
"This will require better coordination and integration of science into policy. To this end, a redesign of the global institutional architecture could create a governing platform  to provide oversight across the many organisations involved in agriculture, food and nutrition.
"The platform could ensure  the coordination needed to achieve the SDGs amid growing  complexity.
It also contended that to complement the platform, an international panel, comprising experts from the global scientific community, could support   sound policy-making by providing  research-based evidence on agriculture, food and nutrition.
Also on Food systems under radical change, the report noted that food systems have been at the heart of recent unprecedented reductions in global poverty, hunger  and under-nutrition.
It added that the food system will be the foundation of future progress, but regretted that radical global  changes in rising anti-globalism and emerging technologies are creating new challenges and opportunities.
"Moreover, today's food systems are contributing to health and environmental crises.  Many national food systems are rapidly  transitioning toward diets that are too high in salt, sugar and fat and food systems are implicated in a range of environmental pressures.
"As acute as these  challenges are, food systems are uniquely positioned to be a primary driver of improved human and environmental health.
"To understand how food systems can  be transformed in this time of  global change, we must understand   how global change is affecting food security and nutrition.