Nigeria's most watched sitcom, "Professor Johnbull", is being taken to higher grounds and retooled as the shooting of Season 6 teed off recently in the Coal City of Enugu.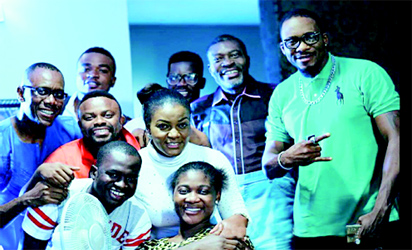 The TV drama series, Professor Johnbull, sponsored by the telecommunications giant, Globacom, is being enhanced by the production crew headed by the iconic Producer, Tchidi Chikere, supported by two legendary consultants, Chika Okpala alias 'Zebrudayah', and Richard Mofe Damijo (RMD). Reports from the location confirmed that the first set of cast and crew arrived Enugu last Friday, while the remaining members joined mid-week, adding that recordings for the new season were on-going.
Professor Johnbull is an episodic situational comedy built around the family of the linchpin of the comedy Professor Johnbull, acted by Kanayo O. Kanayo.  He is domiciled in a neighbourhood in Enugu with his daughter, Elizabeth (Queen Nwokoye), his househelp, Nje (Angela Okorie) and his kinsman, Jeroboam, aka Boam (Osita Iheme). Professor Johnbull's house is the rallying point for all the proximate people of the neighbourhood who congregate in his house for conflict resolutions, agenda setting and enlightenment .