By Simon Ebegbulem & Gabriel Enogholase
BENIN—SENATE President, Dr. Bukola Saraki has said that the Federal Government will adopt the carrot and stick approach to curb the menace of irregular migration and human trafficking in the country.
He also raised the alarm over what he described as the enslavement of Nigerians in foreign countries through the activities of human traffickers, saying that the situation was an indication that something is clearly  "Wrong in the way we manage citizens' security, border security as well as international cooperation and collaboration."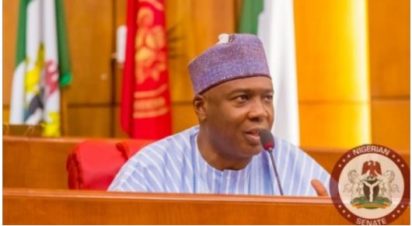 He spoke yesterday in Benin City, Edo State, at the all stakeholders' Senate Roundtable on Migration and Human Trafficking.
He said: "I must stress, however, that this is not a blame game. The idea is to collaborate in a responsible manner, to make certain that agencies in Africa, Europe and the wider world are not failing in their duties on this issue.
"Let me make it abundantly clear that Nigeria is willing to collaborate with all countries of the world on irregular migration. With our international partners, we should be able to work out a carrot-and-stick approach that gives our people the incentive to stay on the continent and thrive.
"Every human being deserves his or her own place under the sun and for many, that place under the sun is here, in Africa, but they have to stay in order to find it."