Oil marketers have said that they have reached an agreement with the federal government on the payment of an outstanding N650 billion subsidy.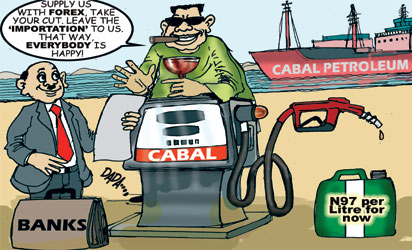 Depot and Petroleum Products Marketers Association of Nigeria, DAPPMAN and Major Oil Marketers Association of Nigeria, (MOMAN, had written to President Muhammadu Buhari on January 24 and also to Ibe Kachikwu, Minister of State for Petroleum Resources, on the debts.
In the second letter, the marketers conveyed their decision to engage in mass sack of staff and closure of depots in less than 14 days.
But in a statement jointly signed by Dapo Abiodun, chairman, DAPPMAN and Olufemi Adewole, executive secretary of the body, on Monday, the marketers said that "a series of constructive engagements and meetings had been held" between them and the Nigerian
National Petroleum Corporation, NNPC, the Ministry of Labour, and the presidency.
The marketers expressed hope that the payment would be approved by the national assembly, bringing an end to the crisis faced by them.
"Marketers have been reassured about the FGN's commitment to make payment as evidenced by the request for approval for appropriation of same to the national assembly," they said.
"It is our hope that this approval will be given promptly and these long overdue payments made subsequently.
"All marketers are to ensure there is no disruption in the supply and distribution of PMS nationwide."