BY BOLUWAJI OBAHOPO
LOKOJA – The Deputy governorship candidate of APC in the 2015 Kogi governorship election, Mr.James Faleke has declared his intention to contest for the Kabba/Bunu – Ijumu federal constituency in Kogi State in the next year general election.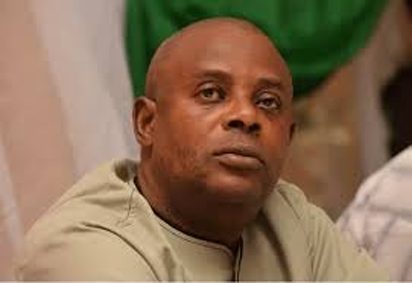 Faleke dropped the hint Monday at Aiyede, in Kabba/Bunu Local government area while commissioning market stalls he built and donated to the community.
Faleke who also debunked rumour of his proposed cross carpeting to the Peoples Democratic party, PDP, said he still remain a card carrying member of the APC.
'Rumour about my decamping to the PDP is just at the realm of speculation. I still remain a card carrying member of the APC.
"The only thing I'm sure of for now is that I have the desire and intention to context for the House of Reps position of Kabba/Bubu – Ijumu Federal constituency.
Faleke while preaching the 'good gospel' of APC, also said his group holds a strong believe in the reconciliation team of Senator Ahmed Tinubu, and are being hopeful it will berth in Kogi state very soon to resolve the political differences in the party.
He however charged other well to do individual in the community to emulate his gesture by contributing to the infrastructural development of the community, said government alone cannot do all.
Earlier, Chairman of the Aiyede Community Development Association, Prince P. K. Tolorunse eulogised the gesture of the reps member said it will aid in changing the economic fortune of the community.
"This project will in no doubt reduce poverty among our people thereby improve the well being of the people. It will equally reduce lost as being experience in the past as people will have place to keep their wares.
"The entire communities of Aiyede Bunu sincerely appreciate Hon. Faleke Abiodun James for his philanthropic gesture. He is a man of large heart and economic sagacious. You shall be remember forever for your imminence contributions to the economic and infrastructural development of this community. "