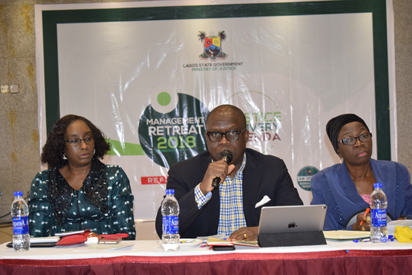 RETREAT: From left: Solicitor-General/Permanent Secretary, Mrs Funmilola Odunlami, State Attorney-General and Commissioner for Justice, Mr Adeniji Kazeem, Director, Administrator-General and Public Trustee, Mrs Mariam Olaniyi at the 2018 Ministry of Justice management retreat, held at Best Western Hotel, Victoria Island.
By Abdulwahab Abdulah
Lagos State Attorney- General and Commissioner for Justice, Mr. Adeniji Kazeem has promised that the state will continue to give out its best in terms of justice delivery to its citizens.
Kazeem made the disclosure at this year's three-day management retreat, organised by the Ministry of Justice, with the theme: Justice Delivery Agenda – Reflection & Projection, held in Lagos.
According to him, the retreat was aimed at meeting with various Heads of Department and Agencies under Justice Ministry to deliberate on ways  that could be used in order to move the state forward.
He commended all the departments and agencies for a job well done, while urging them to move the justice system in the state to an enviable position. He also used the occasion to ask the departments and agencies to avail him with the challenges faced in the course of exercising their duties.
The Permanent Secretary and Solicitor- General, Mrs. Funmilola Odunlami thanked the Attorney-General for his cooperation and understanding in moving the ministry forward, while promising to work with all the departments and agencies to make justice available to Lagosians.