…says it's not sure on electronic voting
By Dennis Agbo
ENUGU- THE Independent National Electoral Commission, INEC, has said it has no position in the election sequence tangle between the National Assembly and the Presidency.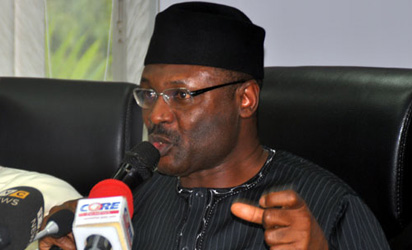 The umpire body said that its role is to implement the law and has no hand in the deadlock on sequence of the 2019 general elections.
The commission also stated that even though it has been piloting on use of electronic voting, using transmission as an instance, it was not sure if it will use electronic voting in 2019 elections.
INEC National commissioner, Prof. Ibeanu Okechukwu made the commission's position known, Friday, when he commissioned ICT/CVR staff training and crèche at its Enugu state head office.
Okechukwu said "The Nigeria Constitution specifies clearly how laws are passed, it starts from the national assembly and finally the president gives assent to the bill and it becomes law. INEC is not involved in making any law, INEC's role is to implement the law, so INEC cannot have a position in the making of a law."
On electronic voting he said "We did not make a promise that we are going to transmit result from the polling units. INEC starting from 2015 has been piloting transmission of result, electronically, and we have carried out series of pilots including Anambra state. In some states we have transmitted from polling units and in some states from the RAs (wards).
"The whole idea in piloting these is to get the most robust framework for electronic transmission of results. So in principle INEC is committed to electronic transmission of result but we are looking at the outcome of these pilots right now. If we are satisfied that we have robust framework that we can implement in 2019, then certainly we are going to implement electronic transmission either from the polling units or from the wards, depending on what our pilot tells us."
Okechukwu however stated that despite the commission's uncertainty on the use of electronic voting, it will still conduct pilot electronic transmission of results in coming governorship elections in Ekiti and Osun states.
He countered Ohanaeze Ndigbo's allegation that that the commission was short changing South east states in the ongoing continuous voters registration, describing the allegation as false.
Okechukwu said that as a matter of fact, Enugu state was leading in turnout of voters registration that commence last year, disclosing that the number of registration centres in Enugu was increased from 17 in 2017 to 35 in 2018