By Sufuyan Ojeifo
Since emerging as deputy senate president in 2015, despite being a member of the opposition Peoples Democratic Party (PDP), Ike Ekweremadu has been a subject of both subtle and brazen attacks by entrenched interests in the All Progressives Congress (APC).
They see him as a usurper of the conventional privileges of presiding officers that the APC, as the ruling party, should have maximized by producing both the senate president and the deputy senate president.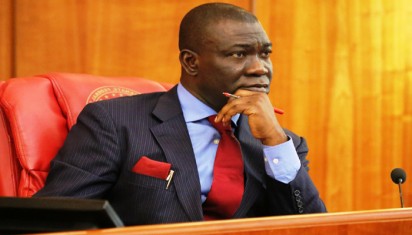 Ekweremadu has been deputy senate president since 2007.    He was deputy to former senate president, David Mark, for eight years until 2015 when the PDP lost its majority in the National Assembly to the APC.    When that happened, there was celebration in the camp of the APC because the leadership of the federal legislature was believed to be right in its kitty.
But in a riveting jigsaw nature of politics, Ekweremadu had sensationally retained his seat in an APC-controlled Senate, following the election that held in June 2015.    Bukola Saraki, who emerged as senate president, in complete defiance of his party's position on National Assembly leadership, had thrown the office of the deputy senate president into the mix of political negotiations.
Saraki, at that point in time, desperately needed the strategic support of the 45-member PDP senate caucus.    With his 21 APC members' loyalist group in the 109-member senate joining forces with the PDP caucus, he would be home and dry in the election for the position of senate president with a simple majority vote.    Ekweremadu's election would then follow suit in a foolproof political strategy that would greatly unsettle the APC.
The fact that Saraki emerged senate president, unopposed, is a fact of history. Those who should have sponsored a candidate against him were elsewhere outside the senate chamber waiting for a meeting by the APC leadership only for them to get to the senate to meet only the election to the office of deputy senate president, for which they sponsored a candidate.    Regardles, Ekweremadu still won by landslide.
Since then, all manner of plots have been hatched to disparage Ekweremadu in order to prepare the ground for his ouster. The first in the series of attempts to demonise him was his alleged involvement in the forgery of the senate standing rules used by the bureaucracy to conduct the election that brought in the Saraki-Ekweremadu leadership.    He was also recently mentioned in an alleged ownership of a property in London.
There is no love lost between Saraki and the forces that have since been arrayed against him and Ekweremadu. To remove the duo is their desire but they have found it very difficult despite their orchestrated false asset declaration trial at the Code of Conduct Tribunal to which Saraki, in particular, has been subjected.    Both of them have remained in the saddle to the frustration of APC leadership.
The above background became necessary in order to comprehend and mitigate the out-of-context reactions by Nigerians to Ekweremadu's passionate and fecund contributions on the floor in which he warned against military takeover of power in Nigeria. The thinking of many Nigerians is that Ekweremadu called for military takeover.    He did not.    His argument was as clear as it was reasonable. He only cautioned against official dispositions and political actions that could encourage it.
Read him: "The problem in Nigeria today is that our democracy is receding, and the international community needs to know this.    Who says that the army cannot take over in Nigeria?    It is possible.    Yes, it is possible.    Let us not joke with our democracy.    The way they are going…so that is the issue.    Last week, were talking about the house of a senator that was destroyed in Kaduna state.
"We are talking about security people laying siege to (Senator) Dino (Melaye).    We are talking about (former Governor Rabiu Musa) Kwankwaso who was stopped from going to his state, a state he ruled for eight years.    He couldn't go to that state.    We saw people carrying clubs, waiting for him at the airport.
"In Kaduna, (Senator) Shehu Sani cannot organise a committee meeting. And we say we are talking about a democracy. And somebody said that this democracy will continue like this. It's not gonna continue (this way) if they are holding meetings every day on how to deal with each and every one of us here. So it is important that the international community know this, because they helped us to restore democracy to Nigeria.   Some gangs of people are trying to truncate the entire democracy."
A careful deconstruction of Ekweremadu's statements does not show that he was calling for military takeover.    He is too educated and brilliant to commit that faux pas.    The Enugu-born politician was only adverting global attention to the burgeoning civilian dictatorship in Nigeria presently.    He was calling for reasonable action by the Nigerian people against actions that could make the polity tentative and governance vulnerable to invasion by some external interests or forces. He wanted Nigerians to be vigilant in the defence of democracy amid the official muzzling of critical voices, democratic space and popular participation.
On its part, the military admitted that Ekweremadu's statement was not tantamount to calling for a military takeover.  The Acting Director, Defence Information (DDI), Brig.-Gen. John Agim, in a statement in Abuja, noted that although Ekweremadu's statement appeared "cautionary and sincere in the atmosphere of discourse," yet it was "however derogatory to the Army in the expression used and by extension to the Armed Forces of Nigeria." According to him, "Shortly after the transition from a military to a democratically elected government in 1999, officers of the Armed Forces of Nigeria, who were quasi-political, were honourably eased out of service."
But then, is this an assurance that there are no politically-minded officers in the military anymore? Is the statement by Brig.-General Agim a guarantee that our democracy is on a solid ground, immune against possible onslaught by the military? Whether or not it is a guarantee is not a matter for contemplation at all.
Back to Ekweremadu's statement, I consider it to be a call for eternal vigilance.    He seemed to be evangelical in support of maximum defence of democracy and democratic rule in Nigeria.    He was angry, as it were, with the way and manner the APC administration has bullied and almost mummified forces that are considered to be opposed to the interest of the president both within and outside the APC.
That was fundamentally Ekweremadu's singsong.      He was not in any way inviting the military.    He has been in government since 1999,   starting out as Chief of Staff to the Enugu State Governor and Secretary to the State Government from 1999 to 2003 before coming to the Senate in 2003.    He still has a political future that is very bright and would,   therefore, not want any form of truncation at this intersection.    If his personal politics should suffer any setback, he would gladly wish that it happens in an electoral battle and not in the hands of some military adventurers in political life.
Ojeifo contributed this piece from Abuja via ojwonderngr@yahoo.com