Benin – The Edo Government said on Sunday that it expended N4 billion on various water projects across the state between January 2017 and February 2018, in collaboration with the European Union(EU).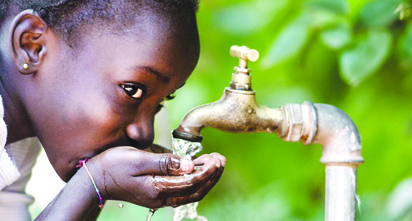 The state Commissioner for Energy and Water Resources, Mr Yekini Idaiye, disclosed this in Benin.
He said the projects were meant to provide portable water to the people.
Idaiye who said the water projects were sited in seven local government areas of the state noted that N1.3 billion had been budgeted in the state for water this year.
He gave the breakdown of the projects as follows: Ovia South West and Etsako West Local Government Areas, N1 billion; Uhunmwonde, Ohrionmwon and Owan West Local Government Area, N2 billion.
The commissioner said N1 billion was being spent on the activation of the Ugboha water scheme executed during President Goodluck Jonathan's administration which was not activated.
"The projects which are jointly being funded by the state government and the EU through counterpart funding arrangement are in various stages of completion.
"In fact, some of the projects will all come on stream before August.
"For the N1 billion projects in Ovia South West and Etsako West, the EU provided about N700 million while the state paid N380 million," he said.
Idaiye said the projects were sited in rural and urban areas, adding that those in the rural communities had attained 70 per cent completion while work had commenced in the ones in the urban areas.
The commissioner said that the EU provided N1.4 billion for the projects in Uhunmwode, Orhionmwon and Owan West and the state provided the balance.
He said further that the EU also paid N700 million and the state provided N300 million for the Ughoha water activation scheme.
"The beauty of these projects is that water will all be reticulated to communities and villages in the council areas where they are sited."
Idaiye also disclosed that the state government planned to reactivate the dams across the state to boost water supply.
He said that to ensure sustainability of the projects, the state government had commenced the process of setting up Water Consumers Association (WCA) and would train 500 artisans to work at the plants.
"The duty of the WCA is to ensure the efficient management of these water projects in each of the communities where they are sited as well as guide them against vandals.
"The artisans to be trained will ensure that any fault that may arise from these projects is promptly fixed," he said.
He further said the state government had drawn up a programme, Medium Term Sector Strategy (MTSS), also aimed at providing drinking water in the state.
The commissioner said the state water board had now been split into two as part of the plan by the Godwin Obaseki's administration to boost water supply in Edo.
"For efficiency and better service, we have restructured the water board by splitting it into Small Town and Rural Water Sanitation Agency and Urban Water Corporation," he added. (NAN)