By Henry Umoru
ABUJA-SENATOR Stella Oduah, PDP, Anambra North has called on all Nigerians to emulate the virtues of love and sacrifice which Jesus Christ exhibited by dying on the cross as Nigerians join the rest of the world to mark Easter.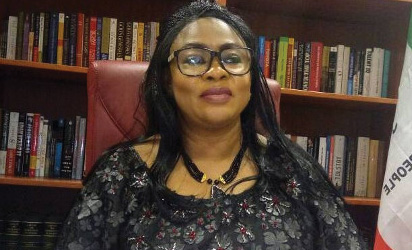 In an Easter message she personally said, Senator Oduah who noted that with love Nigeria can surmount all its challenges' said, "We must learn to love like Christ loved and we must sacrifice in the was Christ has exemplified for us.
"If we love one another, the wanton killing, clashes, kidnapping theft and all other vices that bedevil our society would not exist.
"With love and sacrifice there in empathy, understanding, tolerance and coexistence. We would indeed be united if we love one another.
"Just as Christ taught us and as it is taught in Islam and many other religion, love is a virtue which conquers all, where there is love all other good virtues go along with it".
The former Aviation Minister said that Nigerians must also learn to give in helping the poor and the needy around them and avoid indulging in lavish celebrations while their neighbours go hungry, adding that Easter forms a good time for sober reflection, a time for moral reevaluation and a time to retrace ones steps.
She said, "We must see the Easter as not just a time to celebrate the resurrection of Christ but a time to soberly reflect on the significance of his suffering death and resurrection and how well we are emulating the virtues he taught.
"For parents, it is a time to reflect on how well you have brought up your children. The family still holds the key to bringing up good Nigerians and therefore parents must raise their children up in the right way so that we can have good Nigerians.
"I therefore wish every Nigerian Christian and friends a wonderful Easter celebration."