A businessman, Mr William Agbo, on Friday awarded a one-year scholarship to 10 students of the University of Nigeria Nsukka in Enugu State.
Agbo, who is the Managing Director of Bestie instant noodle company, said the gesture was part of the company corporate responsibilities.
Mr Okwu Ugonwaeze, the media consultant to the company, who represented Agbo at the presentation of the scholarship certificate, also said the award was a way to demonstrate the company's love for education.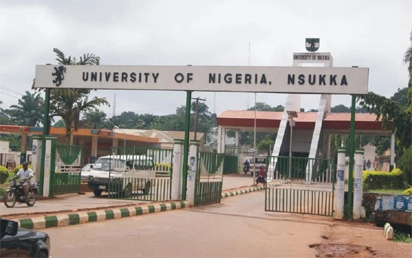 Newsmen report that the event was organised by the company in collaboration with the Students Union Government (SUG) of the institution.
Ugonwaeze said the scholarship covers tuition fees for one academic session for the 10 lucky students who won in various categories of the competition.
"The company is doing this as part of its social responsibilities and to encourage students in their education,'' he said.
The said more students would be awarded the scholarship as the company would also organise similar competition in many tertiary institutions across the country.
"We started in UNN because that is the home of Bestie Noodles as the company is located in Nsukka LGA of Enugu State.
"By next week the company will organise a similar competition at the Nnamdi Azikwe University, Awka in Anambra state.''
He remarked that Bestie instant noodles as a product of intense research that had been endorsed by food experts.
In his remark, Mr Joshua Ezeja, President of UNN-SUG, commended the company for the scholarship to winners of SUG beauty competition.
Ezeja said such gesture would encourage beneficiaries of the scholarship to study harder.
He also commended the students for their orderly behaviour during the competition.
"UNN students will remain grateful to the management of bestie instant noodle for this kind gesture.
"We will continue to patronise bestie instant noodle as a way of reciprocating this kind gesture,'' he said.
Mr James Ajuchukwu and Miss Chimamaka Nnaemaka who won Mr UNN and Miss UNN respectively expressed appreciation to God for making them winners of the competition.
They also commended the company for awarding them the one-year scholarship and promised to work hard to justify the award.
"This scholarship will be a big financial relief to my parents,''Ajuchukwu said.
"May God replenish Agbo pocket for his interest in education as well as putting smiles on the faces of students,'' Nnaemeka said.
NAN