Governor Ifeanyi Ugwuanyi's administration has announced the second phase of the Enugu State Traders Empowerment Scheme with an annual bumper package of N120 million.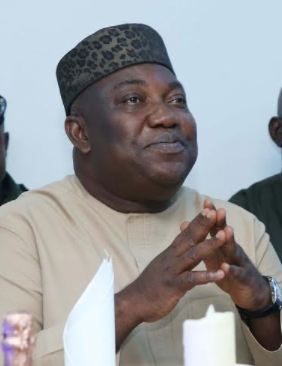 This marks a 100% increase from the previous N60 million, to assist the traders in the state grow their various businesses
Briefing newsmen after the meeting of the State Executive Council, the Commissioner for Commerce and Industry, Barr. Sam Ogbu-Nwobodo, explained that in the new scheme, 200 genuine traders will now win N10 million every month as against N5 million for 100 traders in the last scheme.
Barr. Ogbu-Nwobodo stated that the state government added 17 other markets to the existing 37 to ensure that the empowerment scheme reached every nook and cranny of the state for more winners to benefit.
According to him, "the first phase of this all important Enugu Traders Empowerment Scheme was all involving. Genuine traders were present at the events and participated fully. No fraud was recorded. It was so successful that only genuine traders won.
The lessons we learnt from the previous will be improved on in this second phase to assist more traders grow their various businesses. The council after reviewing the exercise said that it must continue because of its positive impact on the traders and the economy of the state".
Barr. Ogbu-Nwobodo noted that few winners of the scheme have not come to collect their money and advised traders to crosscheck with the leaders of their various markets to find out if they won or not, adding that the names of those who have not claimed their money will soon be made public in the media.
Also speaking, the Commissioner for Works and Infrastructure, Engr. Greg Nnaji, disclosed that the council, in continuation of the state government's efforts towards urban and rural roads rehabilitation and construction programme awarded contract for the construction of Omuoha- Obuoffia-Awkunanaw road in Nkanu West Local Government Area and Enugu-Abakaliki (Eke-Obinagu junction) – Onunweneabo- Akpuoga Nike in Enugu East L.G.A.
The commissioner for information, Mr. Ogbagu Anikwe equally disclosed that the council in keeping with the Land Use Charges Law, recently passed by the State House of Assembly, approved the streamlining of collection of building charges by one agency of government against the earlier practice where many agencies of the state and local governments do the same.
Mr. Anikwe stated that the aim is to ensure that additional burden of double taxation is not placed on the public, explaining that when collected into one source, the money will be shared between the state and local governments on agreed ratio according to the law.