The Bible Society of Nigeria, BSN, was founded on February 8, 1966 to make the Word of God available in local Nigerian languages. In this interview with OLAYINKA LATONA, the General Secretary/Chief Executive Officer of the Bible Society of Nigeria,  Rev. Dare Ajiboye urged the Federal Government to provide  employment to the army of unemployed youths to ensure security in the country. He warned that any country that's unable to create job opportunities for its teeming youths becomes vulnerable to restiveness and other social vices which would affect its productivity. Ajiboye who revealed that BSN, in 2017 alone, distributed Bibles worth over N20 million to Nigerians, noted that there is hunger in the country and people are suffering. EXCERPTS….
Bible Society Of Nigeria & its activities
BSN was founded on February 8, 1966. Before then, we had The British and Foreign Bible Society [BFBS] which had operated in Nigeria as far back as 1807 with the objective of making the Word of God available. We also had the American Bible Society, The Scottish Bible Society which was why we had the Efik Bible that was published in 1868.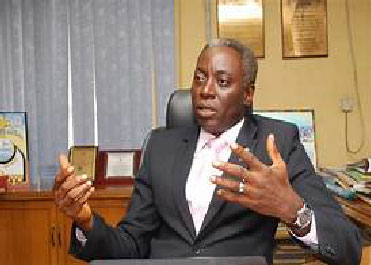 BSN has five cardinal obje-ctives; to translate the Bible into different Nigerian lang-uages and this is in different formats. Before 2015 we were translating only for the sighted. In that year, we have began dedicated chronological Bible stories in Sign language hence our translation is for the sighted,  Braille Bible for peo-ple with visual disability and the sign language for the deaf.
Thus far, we have translated the Holy Bible into 24 Nigerian languages. Work has also been completed on two other local languages: Kalabari and Okrika which will soon be dedicated to bring the number to 26 Nigerian languages. To trans-late the Holy Bible into local Nigerian language costs a minimum of N40 million when the exchange rate was less than N200, while the translation into sign langauge costs a minimum of N120 million because it takes more time and requires more efforts. We give out the Bible in sign language for free.
We often organise fund raising because its capital intensive to fund the translation and other programmes in the Society.  We have no choice than to raise funds from well meaning Nigerian Christians, churches and Christian-incli-ned organisations to carry out our activities.
We organise Bible-based programmes where we give back to the society: we help people interact with the Word of God at National Bible Recitation, Bible Quiz Comp-etitions, Bible Reading Mara-thon, NYSC Essay Writing Com-petition, etc.
We also have a programme designed to stem the tide of HIV/AIDS. Through the support of our donors we have pub-lished books including; HIV/AIDS Pandemic: Conduct not condom which are dis-tributed free to vulnerable people. The book has also been translated into three major Nigerian languages.
Production and distribut-ion
Our Bibles are highly sub-sidized. We distribute them at very affordable prices. We also give out free to people in difficult circumstances. In 2017, we distributed Bibles worth N20.3 million free while over 200 Braille Bible were donated to those with visual disability.
About BIBLIA PLUS & BSN Trauma Healing program-me
It is a Bible App where Bible in Nigerian languages can be downloaded from anywhere in the world. Bibles in Yoruba, Efik, Igbo, Hausa and Itsekiri languages are available for download on Google Play Store and Apple Store. With this App, rewarding Bible reading exp-erience is just a click away.
On the Trauma Healing pro-gramme, we realised that a lot of people are being trauma-tised out there including those in religious setting. The pro-gramme is a Bible-based trau-ma healing care where BSN provide training, resources, and support to various church leaders and individuals for them to positively respond to various traumatised issues in their communities.
Most times,  we only talk about forgiveness but we do not talk about the psychological trauma they go through. Trauma Healing programme deals with the process and stages of healing through biblical approach so that those traumatised will not only forgive but also forget and relate with the enemy.
The Deaf Translation Centre in Ibadan
The Deaf Translation Centre has been dedicated and act-ivities are ongoing there. The  centre  is a strong commit-ment by The Bible Society of Nigeria in her resolve to make the Bible available to the Deaf Christian Community.
BSN is very happy now that the deaf can now hear God as the Bible in sign language will help them to know more about God.
How do you feel about the spate of insecurity in the country?
Simply put, the growing crime rate in the country is traceable to the growing number of unemployment. The high num-ber of unemployed persons in this country is alarming, and a time bomb if nothing is done to get out youths positively engaged. While there is the need for the government to adequately empower the police and other security agencies with adequate mod-ern equipment to enable them effectively combat violent crimes across the country. There is the compelling need for government to urgently come up with workable solutions and programmes aimed at creating employment opportunities to the increasing number of jobless graduates roaming the streets in order to prevent them from going into violent crimes.
Government should not pay lip service to enforcement of law and order, how do we explain what is happening in Benue and some other parts of the country. Is it not worst than terrorism? Those militating against the peace of the country should be dealt with.
Your take on the economic situation in the country?
The truth is that there is hun-ger in the country and peo-ple are suffering. The reality before Nigerians, in the past few years is that of despair and dis-traught, as the nation's econo-my continue to experience endless challenges which has led to the collapse of many bu-sinesses across the country.
You will agree with me that since 2015, Nigeria has been grappling with one economic challenge to another, as things grew from worse to worst. It became so pathetic that the forex suddenly tumbled from about N180–N370 per $1 to N450–N500 per $1, and even at that, dollars became an essen-tial commodity. With the collapse of many manufact-uring companies, a large number of workers lost their jobs, thereby adding to the growing number of the  un-employed persons across the country. Our system encour-ages corruption, where we have laws, they were not implemented.
BSN and nation building
In our little way, we are contributing to securing our culture. Somebody said the death of a language is a death of a culture. Most languages are dead today because they were not documented and when the younger generations come they have nothing to refer to. BSN has successfully translated the Bible into several Nigerian languages  We are working on other lang-uages. By so doing, we are securing these languages and the culture of our country.
To translate the Bible, we employ three translators and contributing to the Gross Domestic Product and we have over 200 staff who we pay salaries.
We transform lives as we make the Bible available to the masses especially prison inmates. Remove the Bible completely from the society and see what will happen. Insecurity would have been higher without the Bible.
The level of crime is grow-ing despite the proliferat-ion of churches…
I will disagree that we have churches and there is nothing to show for it. Without preach-ing the Word of God, Nigeria would have been on fire. Its just that we do not have record of conversions. At least I read in newspaper of some people that return their certificate to WAEC because they met Christ, some return their first degree certificates and have to start all over from secondary school.
We know there are bad eggs among the ministers of God but that does not remove the fact that we still have genuine pastors and i will say churches have reduced crime rate in Nigeria.
Advice to church leaders
Leadership is very important. Our religious leaders should not soil their hands in corrupt acts. They should show good examples to their followers, just like Jesus Christ did. If a member whose salary is not more than N1 million a month brings a tithe of N5 million in a month, his pastor should ask questions. Religious leaders should be alive to their resp-onsibilities, and live their lives in accordance with biblical standards.