Bayode, who recently broke the Guinness book of records for Longest Marathon Read Aloud contest spoke to OSA AMADI, Arts Editor and Chris Onuoha at the Eko Hotels and Suites, Lagos, where he was lodged to recuperate from the ordeal he passed through achieving the feat.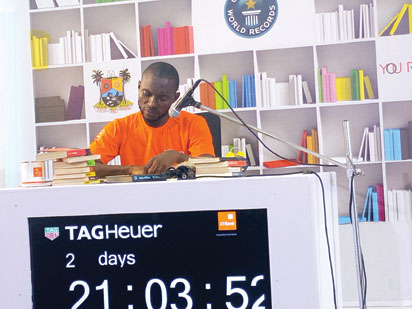 Please tell us about yourself
My name is Olubayode Treasures Olawunmi, I studied accounting at Osun State Polytechnic. I am from Ododeyo, Ijebu North East in Ogun State. I was born and raised in Lagos. My dad is late and my mum is alive. She was at the final reading session with me that very day. She was overjoyed at the end of the reading.
What would you say gave you the preparation, background, and ability to become so proficient in reading to attempt this contest?
My drive was determination. And determination comes when there is a vision. Why did I do what I did? It is for the love of books and education because I am a street boy. I discuss a lot with my friends and we do have arguments about social issues that affect us. They would say people are making money these days through sports, entertainment and illegal mean such as Yahoo-Yahoo. I tell them that education is still the best platform for stardom and making of money. Often, the argument would heat up to the point where they would be threatening to beat me up. I told myself that one day I must do something about it.
Now, you can see that pop musicians dominate our TV screens flaunting their cars, partying with winning and dinning while the youths root for them. They believe they can make a lot of money through yahoo- yahoo. Most of them do no longer care about education.  Of course they can make it those ways but music is only one platform among others. The entertainment industry employs only a few people but education remains the best platform for professional careers.
Having looked at all these, I promised myself I must do something just for the love of education and reading. For instance, the Western world couldn't have gotten where they are today if not for education and research works. For Africa to get there, we need to take education serious. These are the thoughts that inspired me to decide I must be a voice to change that negative perception among our youths. One of my visions now is to go round Africa to talk to young ones and sensitize them about education and cultivate their interests in reading books so that in the nearest future, Africa will boast of icons in all walks of life.
How old are you?
I will be 40 years old by September this year.
At what point did you start having this thought about doing something that will rekindle our people's interests in education and reading?
I have always been a reader. I started reading when I was in Primary Three. But reading books, aside my normal school books, started in 1999 when I picked a book titled How to win friends and influence people by Dale Carnegie. That book opened my mind. There's a lot in books. That book taught me how to make friends and make them feel comfortable; how not to be domineering and how to make people feel important. Based on what I learnt from that book, I told myself I must continue to read. Since that day, I have never regretted reading any book. Every book has information and knowledge that can transform your life. One paragraph of a book can change your life. The Bible says study to show thyself approved. It is not referring only to the Bible, but to all types of books that inspire knowledge and wisdom. Through books, Daniel discovered that the children of Israel were to spend 70 years in exile. After 74 years, Daniel opened the scroll and saw and read. If God does not approve reading, why did he not show Daniel such revelation through dreams?
Daniel said he understood by books. God himself takes reading very important. We need to read. People say there is no shortcut to success but I say there is – by reading books. Through reading of books, you can learn in few days something that should have taken you about 20 years to learn through other means. When I wanted to study accounting, I did not go asking questions about how to go about it, rather, I picked up books and discovered what I needed to do.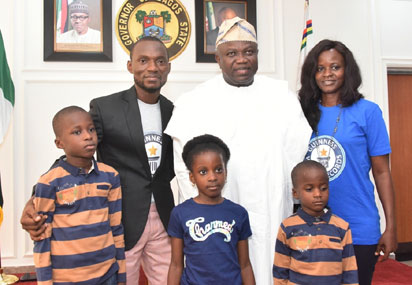 Reading aloud is different from reading silently. How did you build  up the power to read aloud?
When I set out to do this, I went through the Guinness world record and checked the category. By his grace, I am the only graduate in my family. There was no one in my family I can say I took inspiration from. We are five children in my family. The next person that would have been a graduate was my late sister.
Was that not some kind of motivation for you – the fact that no one in your family was a graduate before you?
Yes, the determination to be first fruit; the vision to be an icon that people can look up to, like children coming after me saying I want to be like Bayode.
Tell us the process that got you to this place
I applied through the Guinness world record category. When I looked through the list, I discovered that the one I fancied was the Longest Marathon Read Aloud. That was around May last year. It took about 12 to 20 weeks. When they approved the application to attempt, the next step was how to prepare for the task. I applied online. I tried to contact the former record holder but I couldn't because the contact was not available anywhere. I wanted to ask the record holder how to go about it, what it entails and the challenges therein, so that I could prepare my mind before embarking on the project. But there was no advice from any one, no one to help me or counsel me on the challenge I was going to face. Eventually Guinness approved my application and I became a bit confused psychologically. However, I summed up courage to do it.
Did you start  by practicing reading books aloud?
Yes, I read for 3 to 4 hours during rehearsals. I stopped the work I was doing at that time to afford me more time to practice. Then I started reading for longer time. I also read aloud in my room. Later, I approached one of my sponsors, GTBank. Other sponsors were Lagos State government and Multipro Company.
What form of support or sponsorship did you need at that time?
When I got the approval, I started going around looking for sponsors because the contest must be in a public place where people can come and be witnesses. That means I have to hire the place and pay for all the logistics. This is all for Guinness world record to recognise and be sure that the reading actually took place. There are guidelines because I have to submit evidence to them. Many companies I went to for sponsorship did not show interest. At a point I was demoralized and discouraged. If this was sports or music they would have jumped at it, I said to myself. But this is about education, about reading books, and no one was interested. If it was a perverse reality show like BB Naija that corrupts the minds of young people, they would see the business prospect in it. But I kept pushing until I got a meeting appointment with Multipro Company which first listened to me. They offered to help me on humanitarian grounds. They gave me food items and cash to encourage me.
Multipro was the first to come to my aid. After that, I kept pushing for more support until God led me to GTBank.  One day as I was going to Oyinbo from Yaba I passed through Herbert Macaulay Way and noticed the You Read Library facility at Yaba Central Library along the road. I quickly jumped down, entered the place and discovered that it is a suitable place to conduct such a contest. Quickly I enquired about the facility to know if I could use it. When I spoke to the Librarian, I was directed to write to the Lagos State Government for approval and also to GTBank, the managers of the You Read facility. I wrote to them and waited for some time before they responded. For the GTBank, they were hesitant at first, asking if I could do it and I said "yes."
Deen Sanwoola, the lawmaker representing Ikorodu in the Lagos State House of Assembly also became interested in the project because he is someone who has been encouraging youth empowerment programmes and initiatives like this. He was happy and encouraged me to use his facility for a trial run which I did for 96 hours for 4 days. I could have done 120 hours then out of enthusiasm. Then I said to myself: why break the record before the contest actually begins. I stuck to the Guinness world record guidelines and as well streamed it life for GTBank to watch and believe that it is possible. When they became convinced, they now called to fix a date for the proper contest. Thereafter, February was chosen which eventually coincided with the World Book Week. I never knew it will be this loud. My aim was just to read and prove it to myself that I could read and have been dying to read books. I only set out to make a difference. Lagos State at last, keyed into the vision and encouraged me by providing ambulance, health facilities and other things, while GTBank supported with other needs. I became amazed at such a support and that alone encouraged me more to work harder. When I was reading, students from various schools in Lagos came in to be witnesses and that encouraged me the more. My initial intention was not to break the record.
What was the reading session like?
During my trial reading before the contest I read for 96 hours for 4 day, I had a sour tongue. My teeth cut my tongue and for one week I could not talk normally. For the real contest, I was afraid of that same painful experience but because I have committed a lot of people, organisation and my conscience, I told myself not to give up. For the love of books, I was willing to sacrifice anything. On the fourth day of the reading session, fatigue set in. I was hallucinating. My tongue ruptured and I almost gave up. The GTBank team became emotional and afraid I might collapse and give up the ghost. At some point, they wanted to stop me when they noticed that my health was failing but I told them I must continue and finish. After the fourth day, I received new strength and felt like I had never suffered anything. I became more determined to cross the finishing line. I was supposed to do 120 hours but I eventually did 122 hours at the end.  The former record was 113 hours broken by a man from Nepal and I set out to do 120 to surpass him but ended up doing 122 hours. All the evidence will be sent to Guinness world record for approval. Independent witnesses from University of Lagos and Yaba College of Technology were present to record the proceedings without my knowledge. All these showed the authenticity of the entire process. I read over 13 books comprising books written by Nigerian and foreign authors. The number of books read does not really matter. What counts is reading aloud non-stop for a long period of time. Right now, Eko Library has taken over the books I read as relics for the archives.
Did you have the freedom to choose the books you read?
Yes I did. I chose all the genres. I could have even chosen to read the Bible if I had wished.
Was there any representative from Guinness World Record?
No! That is why there were independent witnesses from Unilag and YabaTech. One of the guidelines was I must foot the bills and show them evidence that I did it before they will publish it in their coveted book of records. Secondly, since the entire cost should come from me, I did not deem it wise to invite them to Nigeria because of the huge cost.
Could you talk more on the difference between reading aloud and reading silently?
Reading aloud and reading silently are different ball games. When you are reading  silently, you are reading with your mind and eyes alone, but when you are reading aloud, you are engaged with your mouth moving up and down, your tongue, your cheek, your muscles, your brain, your eyes and the entire body. There was a time I was reading and my vision became blurred. I was looking at the book the whole day but was not reading.
Did your interest in books and your love for reading prepare you for this contest? 
I love reading books, trust me. I can tell you the story of all the books I have read from A to Z. One of the books I read, by Norman Vincent, had a lot of encouragement in it. I chose that book specifically because of the information in it. While reading it, the book spoke to me and motivated me to move on because of the inspiring words written in it.
Could you share with us  some of the titles of the books you read?
Norman Vincent, Miles Munro, T.D. Jakes, Napoleon and some inspirational books that have encouraging messages. I read a lot of autobiographies. I believe reading about people and their lives helps teach you how they made it to where they are now. I love realities, I love fictions too. Toni Kan's book was among the books I read.
Among all, who would you say is your best author?
Norman Vincent Peale.
Is there any financial reward attached to  the contest?
No. there is no financial reward but I am expecting some endorsement from discerning organisations who value the effort and what I did. Besides, my joy is breaking the record and I will be fulfilled to see young people aspiring to be like Bayode. I would also like financial support from government so that the vision will be actualized. There need to be financial reward to this, to avoid young people saying: and so what? He broke the world reading record, how much money did he make from it? Wizkid can sing for 5 minutes and make N5 million, and Mikel can be bought with millions of dollars. We must halt such destructive mindsets because it is anti-education and dangerous to the survival of human civilization. The way to change such prevailing mindset is to empower people like us financially.  I would like to travel across Africa, preaching the gospel of sound education and sound reading culture. Education pays and I want to be that role model. I want to show that education icons are more valuable to society than entertainment or sports icons. I also want to change the mindsets of the young people who believe that taking a shortcut through music or illegal means is better than earning a living through reading of books. I want be a voice and embark on a sensitizing campaign that will re-orientate the mind of our youths. It is a huge project but I believe it can be achieved through adequate supports from philanthropists, private and corporate bodies that value such vision.
More so, every youth must know that every worthwhile career chosen in life is best when founded on education. You won't really go far in any career – music, sports, comedy or anything else – without education. You can make all the money you will ever need, without education it amounts to little or nothing.
Subscribe for latest Videos