By Ndahi Marama, Ndahi
No fewer than three members of the Civilian Joint Taskforce (CJTF) and two people suspected to be farmers were reportedly killed in a suicide attack and slaughtered in Muna Dalti village of Jere Local Government Area and Gudda village of Mafa Local Government Area of Borno state.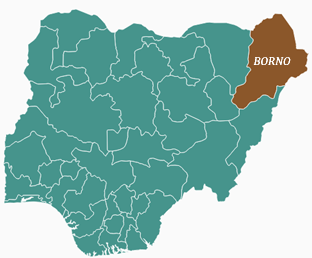 The Muna Dalti incident took place on Tuesday when a male Suicide bomber riding on a bicycle rammed and detonated an Improvised Explosive Devices, IEDs strapped on his body near a security checkpoint, killing three members of CJTF, with 17 other people injured.
While the Gudda incident took place on Monday evening near Ladin Buta village, when some group of insurgents attacked two farmers on their farm,slit their throts and left the victims in the pool of their blood, before they (insurgents) fled after their victims were confirmed dead. Sources have said.
Confirming the Muna Dalti attack in aa press statement, the Borno state Police Public Relations Officer, DSP Joseph Kwaji said the dead and injured were evacuated to the Universty of Maiduguri Teaching Hospital (UMTH) while normalcy has been restored in the area.
He said "On 05/03/2018 at about 2030hrs , a male suicide bomber riding on a bicycle detonated IED strapped to his body at Muna Dalti area mine, killing himself and three Civilian JTF members, while 17 people were injured,
'The scene has been visited by Explosive Ordnance Disposal (EOD) and patrol teams.
" The death and injured were evacuated to UMTH Maiduguri. Normalcy has been restored , please," DSP Kwaji said.
However, the slaughtering of two farmers in Gudda village was not confirmed by the Police Spokesman, a competent security officer who is not authorised to talk to the press said, the slaughtering of two people on their farmland have scared the residents of Gudda Community, as many fled to Ladin Buta a day after the incident for safety. End