Toni Kroos rates Brazil "two grades" higher than when Germany hammered the 'Selecao' 7-1 at the 2014 World Cup.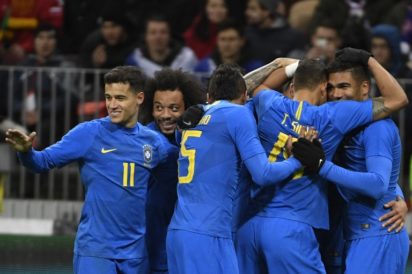 Kroos scored twice in the Belo Horizonte semi-final at Brazil 2014 when Germany blitzed the hosts, who were missing superstar forward Neymar, with five goals in a dramatic opening 30 minutes of what became the heaviest home defeat in Brazil's history.
Ahead of the teams' meeting on Tuesday, Germany midfielder Kroos is not expecting a repeat: "When I look at the current team in comparison to 2014, they are two grades better.
"They have really good people, my (Real Madrid) team-mate Casemiro is doing well — they have come together well.
"Brazil is definitely one of the World Cup favourites."
Germany face Brazil at Berlin's Olympic Stadium after the Selecao beat Russia 3-0 in Moscow on Friday, with Neymar again sidelined by injury.
Second-half goals by Miranda, Paulinho and a Philippe Countinho penalty sealed the win at Moscow's Luzhniki stadium, which hosts the World Cup final on July 15.
The Germans warmed up with a 1-1 draw against Spain in Duesseldorf to extend their unbeaten run to 22 matches.
Rodrigo Moreno's goal after just six minutes was cancelled out by Thomas Mueller's superb first-half strike on Friday.
With one eye on their World Cup defence, Joachim Loew consoled himself with the "very, very important lessons" Germany learnt, but his senior stars were unhappy.
– changes to come –
Centre-back Jerome Boeteng said "everything" was wrong with the opening 20 minutes when Andres Iniesta gave the German midfield a masterclass as Spain dominated.
"Our pressing didn't work, then they played cat and mouse with us," Boateng fumed.
"We wanted to play better from the back, use our chances, pass well, not lose the ball so fast.
"Our counter-attacking game must be better, we were hit three or four times on the counter, you can't have that.
"It's not all bad, but we have a lot of work and we must come together as a team."
Kroos agreed: "In the first 20 minutes we were just chasing after them."
Loew expects to make five changes against Brazil.
Stars Thomas Mueller and Mesut Ozil have been released, as was previously arranged, to give them a break.
Hertha Berlin left-back Marvin Plattenhardt will play at his home stadium, while Manchester City's Leroy Sane should replace Julian Draxler on the wing.
Ilkay Gundogan is set to replace Sami Khedira, who suffered a back knock against Spain.
The Spanish provided Loew with the tough test he wanted as Germany count down to their first World Cup match against Mexico in Moscow on June 17.
"It was worth the risk, even when we didn't always manage to put pressure on them up front," said the Germany boss.
Now comes another 'outstanding test' in the shape of Brazil.
"These are the teams who want to — and can — play a decisive role at the World Cup," said Loew.
A win over Brazil would boost German confidence following recent draws with top teams England (0-0), France (2-2) and now Spain.