Zlatan Ibrahimovic revealed Friday he had initially hoped to join the Los Angeles Galaxy two years ago as he vowed to conquer Major League Soccer in the final chapter of his glittering career.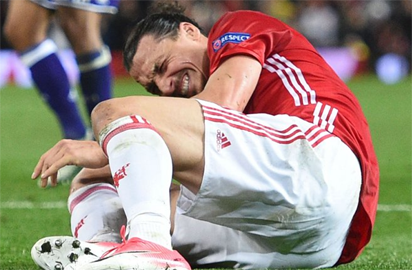 The 36-year-old Swedish superstar told reporters at a press conference he had planned to head to California after his stint with Paris Saint-Germain came to an end in 2016, before instead opting for Manchester United.
"This thing was supposed to happen a couple of years before, but it didn't. But I'm here now," Ibrahimovic told reporters at the Galaxy's StubHub Center ground.
"So the destiny was that it was supposed to happen, it was only a question of when. Finally I'm here and I'm just excited, looking forward to playing."
Ibrahimovic was speaking after training with his new team-mates for the first time earlier Friday after arriving in Los Angeles less than 24 hours earlier.
The veteran striker, who has not played since appearing for United against Burnley in December, has declared himself fit and available for Galaxy's much-anticipated derby with Los Angeles FC on Saturday.
Ibrahimovic insisted he was raring to go after barely playing in the past 12 months as he recovered from a serious knee injury.
"I just want to go out on the field," Ibrahimovic said. "I know it has been a long break for me. It's been a long wait where I haven't been in my rhythm where I play every day because of the injury.
"Now I want to go out, smell the grass, touch the ball. Today when we finished training, I just wanted to continue. I asked the coach 'Can I shoot some more balls?' And he said okay, so I just shot some more balls."
– 'I'll die young' –
Ibrahimovic, whose signing for Galaxy was announced last week, compared himself to Benjamin Button, the movie character who ages in reverse.
"I feel young," he joked. "I feel like Benjamin Button. I was born old and I will die young. For sure. So don't worry about my age."
The striker, who will earn an estimated $3 million for two seasons in MLS, added that he had already proved sceptics wrong during his spell with United in the Premier League, where he scored 28 goals in 46 appearances before tearing knee ligaments last April.
"When I came to England they all said I was old, I came in a wheelchair," Ibrahimovic said. "But after three months, I conquered England and they said I was flying. So age is only a number.
"I know what I am able to do, I know what I will do. I've come here to win. I've already brought my family. My wife can take care of the family and I can can take of what I'm good at — playing football. I feel excited. The lion is hungry."
Asked about the chances of his appearing for Galaxy on Saturday, he replied: "I'm available. I have so much adrenaline in me, so I think it can hold a long time. Let's see.
"We start step-by-step. I'm not here only for one game, I'm here for the season and another season after that. I think the coach wants to build it up and make me feel comfortable, settle in.
"If the coach needs me for the whole game, I'm there for the whole game. If he needs me for one minute, I'm there for one minute."