FOR a state that has produced great leaders, mavericks, titans and icons in public service, business, and entertainment, today's Delta is a mystery and a laughing stock. Ordinarily, it should be said with pride that Delta is the home of Denis Osadebey, Olorogun Michael Ibru, Obarisi Clarkson Majomi, Chief Great Ogboru, Chief Frank Kokori, Chief David Dafinone, John Pepper Clark, Bruce Onobrakpeya, Ben Okri, Jim Ovia, Tony Elumelu, Ngozi Okonjo Iweala, Stephen Keshi, Ali Baba, and Mudiaga 'Mudi' Najemo, just to name a few. But visionless politicians are destroying Delta and the troubling evidences are everywhere. From 1999 till date, the state has been and is still being run aground by some cliques who have put selfish interests and greed over the common good and development of the state.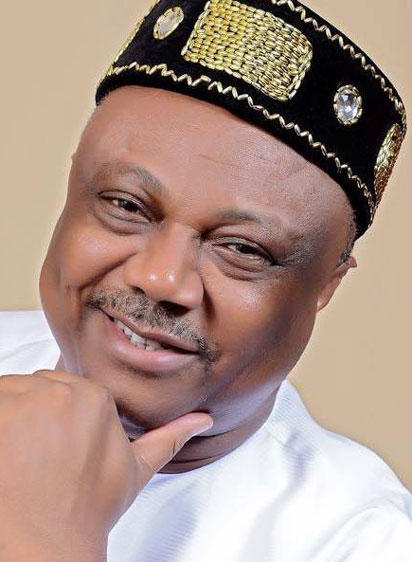 Delta is richly blessed with incredible people and huge natural resources – crude oil, natural gas, rubber oil palm plantations, vast arable lands, and aquatic splendour. Ordinarily, with these resources, Delta should be very well developed. However, due to uncontrollable greed, some politicians who have made corruption a norm just enjoy raping the state. Consequently, Delta is regressing at an alarming rate. Despite the hundreds of billions of naira that Delta rakes in from Federal allocations and internally generated revenues, there is nothing of note to show for it.
Everything in Delta is just sickening and people are just watching helplessly! All public industries owned by Delta and notable private ones are now moribund. Bendel Glass Company is dead. Delta Steel Structures (not DSC) is now like the Titanic. Asaba Textile Mills is now a comfortable home for wildlife. Superbru in Agbarha is a past glory. Olo Cold Drinks and Sparkling Breweries  in Ughelli are now in the cooler. The entire Warri-Effurun landscape is barren of industries. Unemployment is estimated to be at a staggering 40%! Except politics of the criminal, violent, foolish and valueless kind that adds no good to our society, nothing is just working in our Delta.
For a state that boasts of well-educated, knowledgeable and accomplished people, it is mind-boggling how few politicians became thin gods with license to run our dear state aground and give it a terrible image. It is even much more troubling that some otherwise respected persons are praise-singers for the destroyers of the state. The irony is that we are all running to Lagos or Abuja for the 'good life' while our own state is on 'fire'.
I am from Sapele. Arguably, nowhere is the failure of governance more evident than Sapele. In the mid-19th century, Sapele became an established European port area. Sapele's location is strategic enough for the British to build a Vice-Consulate. In 1960, Sapele was described by the Journal of The Historical Society of Nigeria as "one of the most important industrial port towns in Western Nigeria". One would have expected Sapele to morph into one of the most important and strategic cities in the nation by now.
Instead, Sapele has regressed over the years. Sapele is now a shadow of itself, a great city with faded glory and no one seems to really bother.  Mass closure of industries has led to massive loss of jobs and poor and declining infrastructure. Sapele is almost now unrecogniseable! Governments in Delta have consistently failed the people of Sapele. Sapele, the home of the once magnificent African Timber & Plywood Company (AT&P), is now a shadow of itself. The assets of AT&P have been balkanised, butchered and sold in questionable deals to politicians and individuals connected to them.
Recently, it has been argued that Delta received about N33.4Billion from the Paris Club refund. The State claimed it paid N7 Billion to Local Governments, expended N12.6 Billion on salaries and pensions (without stating how many workers and retirees were paid) and spent N14 Billion on capital projects (none of the projects being funded were mentioned).
The State also received N10.9 Billion bailout fund from the Federal Government for salary arrears and on this, the state claimed it spent N2 Billion on pension payments, N2 Billion for salaries for primary school teachers and N3.5 Billion for workers' salary. What happened to the balance N3.4bn?
The reckless manner financial figures are thrown around by  the State government leaves such much to be desired in terms of transparency and responsible governance. No responsible government owes teachers' salaries while at the same time spends endlessly on daily political appointments of persons who occupy  unidentifiable office potfolios.
This applies to other workers in critical sectors like health. In 2016, Delta reportedly generated N44 Billion internally but still did not pay Local Government workers who were owed about N8.4 Billion in salaries. To those in charge of governance in Delta, the workers are not priorities. Sad indeed!
Without a doubt, there is abundant governance impunity and massive destructive governance in Delta that must be reversed. To change the fortunes of Delta, political power must be wrestled from those now in the saddle. It will not be an easy contest given how entrench those who seem themselves as the current 'owners' of the State are.
We need a pragmatic opposition that must match the People Democratic Party, PDP, in ways it has never ever seen before. Every route for political oxygen for PDP must be blocked by the opposition All Progressives Congress, APC. All lawful options must be put on the table and used to sack PDP from Delta.
I am confident 2019 can mark the reversal of governance decadence in our dear state. The APC has what it takes with Chief Great Ogboru, Olorogun O'Tega Emerhor, Senator Ovie Omo-Agege, Chief Frank Kokori, Hon. George Timinimi, Rt. Hon. Victor Ochei, Prof. Pat Utomi, Hon. (Dr.) Cairo Ojougbo, and many others. They must all work together to liberate Delta from doom. The point really is that, like Ogboru, every major political actor in Delta has experienced PDP's electoral impunity in one form or the other.
The fact is Ogboru has always contested against the PDP without the backing of godfathers. His personal political brand has made small parties very big overnight. That is how he mobilised good leaders across the State to turn the Democratic Peoples Party (DPP) and Labour Party into parties to rival and take on PDP. In 2011, it was just about 11,000 (eleven thousand) votes that separated Ogboru from winning Delta's Governorship. It was that close! Ogboru is a genuine leader whose simple life of selflessness matches the expectations of our people.
Mr. Temisan Amoye, a public affairs commentator wrote from Sapele, Delta State.