By Dr. Ugoji Egbujo
The Alafin is firing on all cylinders. He will be 80 this year. One of his young wives had a set of twins last week. Another young wife had a set of twins this week. Alafin's virility must be studied. He must have the virilty of a fresian bull.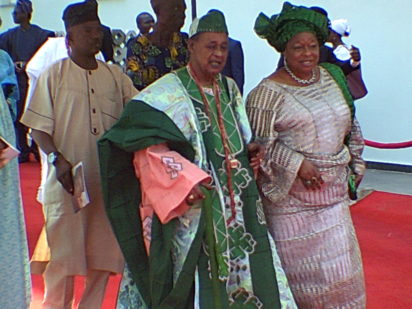 In an age when young men are all talk , no action, Alafin deserves an award. At 80 he is in his twilight. Yet he is shinning like a morning star. I would plead with the Kabiyesi on the need for skills transfer. Apart from his shooting abilities, he may have to teach the younger ones his selection skills.
Good seeds on good soil. How and where does he mingle and seek out these fertile jewels. If its African science, a few young men would like to do internship in the palace.
Every time I see him parading his harem, I marvel at the glory of a college of gorgeous  wives. I came at the wrong time. I have taken keen interest in the Alafin whom the Sani Abacha government almost made a drug courier. He buys his women the finest of liveries and bags. The old man apparently has not  lost his sense of aesthetic appreciation.
His  younger wives are eternally voluptuous. Alafin has to explain to the youths how he keeps them perpetually excited. You can see so much in the flourish of  their poise and wrappas. Their gaits are filled with satisfaction.
But all the time I see wives of monogamous men literally writhing besides their husbands with constipated faces. The young men can't make one woman happy. They become bored too early. Alafin must explain his staying power. His first wife is 79. He has been at this for over 50 years
I heard someone insinuating  evil. He was talking about  palace guards  working overtime. I told him that it was  such unbelief that would not allow him perform great feats. Is it palace guards that fill these young ladies with visible contentment. Is it palace guards that parade them in Westfield mall in London, all looking like tomato J0S.
Alafin takes time to till and water the soil.