By Cecilia Ologunagba
Abuja – The National Association of Nigerian Traders (NANTS), has advised the Federal Government to consult extensively and create awareness on the implication of signing the Africa Continental Free Trade Area (AfCFTA) Agreement.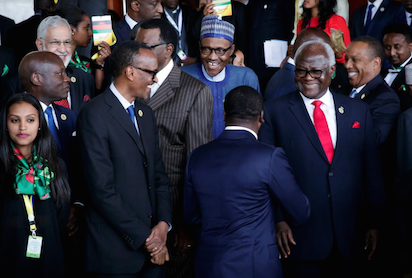 The NANTS President, Mr Ken Ukaoha, gave the advice in an interview on Tuesday in Abuja.
Ukaoha said it would not be proper for the government to sign an agreement which would affect the livelihood of Nigerians without proper sensitisation.
NAN reports that the AfCFTA is part of Africa's plan to promote intra and inter-regional trade, economic cooperation and partnership on the continent by 2063.
AfCFTA seeks to make Africa the largest free trade area, improve its economies and strengthen its position in global trade.
Ukaoha said President Muhammadu Buhari should be praised for not signing an agreement that would affect the lives of Nigerians without proper consultation and cooperative buy-in and ownership of the people.
He, however, commended the President for cancelling his scheduled trip to Kigali, Rwanda, to sign the framework agreement for establishing the African Continental Free Trade Area.
Buhari had on March 18, canceled his scheduled visit to Rwanda to attend an Extra-Ordinary Summit of the African Union on March 21.
The President was to sign the framework agreement for establishing the African Continental Free Trade Area during the Summit that would host leaders of African countries.
"What the President has done is for the interest of the country. In fact, it is for the economic, political and social future of the country.
"First of all, I am sure that 99 per cent of the 180 million population of Nigeria are not aware of this agreement.
"The same population may not be aware of the content of the agreement. This is the agreement that will touch on their livelihood and their lives on daily bases," he said.
Ukaoha said that the era of top bottom approach in policy and agreement signing was gone, saying "it is no longer admirable at all''.
According to him, the method that is tenable is bottom top approach, where people decide the content and implications.
"What the government needs to do right now is to go back and create awareness on the implication and impact of signing the agreement," Ukaoha said.
NAN reports that the decision to establish the AfCFTA was taken in 2012, by AU leaders at their 18th ordinary session.
AfCFTA is the first step in the implementation of AU Agenda 2063, the "Vision" for an integrated, prosperous and peaceful Africa.
Actual negotiations for the AfCFTA were launched at the AU Johannesburg Summit in 2015.
The negotiations are in two stages: Stage one covers trade in goods and services; while stage two covers intellectual property, competition policy and investment.
Negotiations on stage one were concluded this month; while the AU Heads of States and Governments are to adopt, sign and launch the AfCFTA framework agreement at the ongoing summit in Rwanda. (NAN)
Subscribe for latest Videos