A non governmental organization known as Global Peace and Life Rescue Initiative, GOPRI has commended the Nigerian Army Chief of Civil-Military Affairs, Major Gen. N. E Angbazo for the visible transformation and innovations experienced in that arm.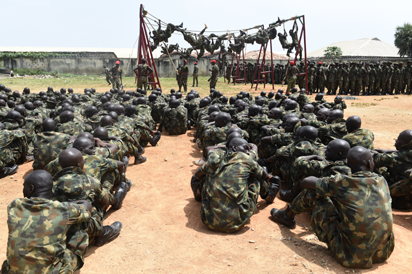 The NGO believes this laudable achievement by the military arm has brought about the robust relationship between the military and civil populace all over the country, a sharp departure from what it used to be in the past.
Executive Director Of GOPRI, Amb. Melvin Ejeh stated this yesterday while appraising the civil military relationship across the country. The organisation strongly commended Maj. Gen. Angbazo for his selflessness and committment to service.
"We are so far impressed with the current healthy relationship being enjoyed between the Army and the civilian populace.
"This is surely the way to go in a democratic setting as it would enhance credible flow of information among soldiers and their host communities, thus leading to a reduction in crime.
"Since the appointment of the current Chief of Army staff, the Civil/ Military relationship has tremendously improved and it has even gotten better under the chief of Civil- Military Affairs because of his creativity, professionalism, passion and selfless service.
"We cannot afford a hostile Army around the country, Nigeria. Our appraisal round the country reveals a growing confidence in the it's Army.
"We thank the chief of Army staff Lt Gen TY Buratai for appointing such a square peg in a square hole and hope that this renewed relationship will bring an end to terrorism and other forms of criminality that's bedevilling our country.
"We therefore call on all Nigeria's to ignore insinuation of bias against the Armed Forces as this can never be the true reflection of the Armed Forces, " Ejeh stated.