By Johnbosco Agbakwuru
ABUJA—PRESIDENT Muhammadu Buhari, Monday, signed Instrument of Ratification of Memorandum of Understanding, MoU, among Federal Government, Swiss Federal Council and International Development Association on the return, monitoring and management of illegally-acquired sssets confiscated by Switzerland, to be restituted to Nigeria.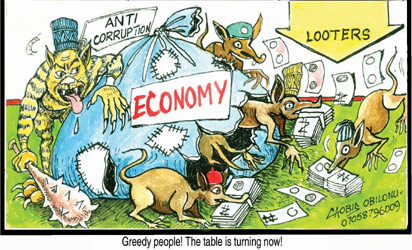 The Federal Executive Council, FEC, had recently given approval to the President to sign two instruments, which would help to foster trade relationship between Nigeria and Singapore in respect of taxation as well as the recovery of illegally acquired assets that had been confiscated by the Swiss government.
A statement by Special Adviser to the President on Media and Publicity, Chief Femi Adesina, said the instrument would help in the anti corruption war in the country.
The statement read: "Following the approval of the Federal Executive Council, FEC, President Muhammadu Buhari, Monday (yesterday), signed two instruments, namely: The Instrument of Ratification of the Agreement between the Government of the Federal Republic of Nigeria and the Government of the Republic of Singapore for the Avoidance of Double Taxation and the Prevention of Fiscal Evasion with Respect to Taxes on Income and Capital Gains.
"The other was the Instrument of Ratification of the Memorandum of Understanding, MoU, among the government of the Federal Republic of Nigeria; the Swiss Federal Council and International Development Association on the Return, Monitoring and Management of Illegally-Acquired Assets Confiscated by Switzerland and to be Restituted to the Federal Republic of Nigeria."
"With the execution of these instruments, Nigeria's trade relations with Singapore and income therefrom are expected to rise, while the return of illegal assets will not only boost the administration's anti-corruption drive, but also provide additional funds for critical infrastructure."