By Marie-Therese Nanlong.
Jos – There is still tension at Dong community of Jos North local government area of Plateau State following series of gunshots which rocked the community on Thursday night leaving three people dead and residents fleeing the community to nearby Rantya and other safer areas.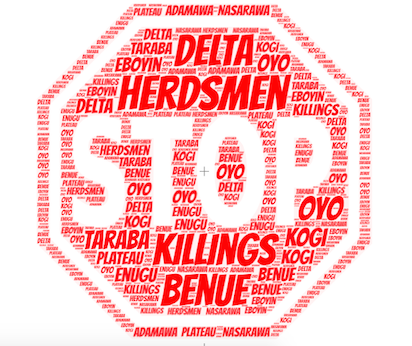 It would be recalled that the community was attacked last week, 25 people were killed, houses burnt and many people displaced and to protect it from further attacks, youths regularly keep watch and alert the people of any pending danger.
But on Thursday night, when the youths on patrol got to the neighbourhood, the herdsmen who had taken over Mai Farin Mota area after displacing the residents laid ambush on the youths, shooting sporadically gunning down three of them.
The said gunshots which lasted for hours sent shivers down the spines of residents of Federal and State Low-cost which are close to the Dong community as many left their homes taking shelter in nearby Churches including COCIN, Dong and St. Monica Catholic Church, Rantya.
A resident, Sekat Rotdunna narrated his experience saying, "I was at 5th Avenue, Federal Low Cost at about 7.30pm, and there was sporadic gun shots heard around Dong village. Immediately I left and proceed to Dong, on my way I saw women and children trekking towards State Low cost, At wildlife Park check point the Operation Safe Haven men stationed there were helpless.
"I arrive Dong 20minutes later, I made inquiry about the cause of the gunshots and I was told by youths around there that, they dispersed themselves as usual to keep vigil over their community, on reaching the hills around Mai Farin Mota, unknown to them, Fulani herdsmen have taken position and laid in ambush waiting for their arrival, as they were sharing their members to various beat up the hill, the Fulani herdsmen open fire on them killing two and wounding so many and the shooting continues, the armless youths ran and took cover with calls for help but help did not come in time.
"At about 8.10pm, I drove down to Dong Central Market, I was stopped by some youths who said the Fulanis were well armed and it will be very dangerous for me to pass to the other side, while we were dragging with the youths, Romeo Police Patrol Vehicle of Rantya Division arrived followed by Operation Safe Haven men, but because it was too dark, the officers were unable to do anything, rather they stood afar and started to exchange gunshot with the Fulanis and call for more support from STF headquarters.
"At about 8.39pm, some security vehicles filled with officers arrived; they summoned courage and moved up to the hills to engage the Fulanis but met with stiff resistance from the Fulanis. Around COCIN LCC Dong, youths were on ground, guarding the Church building."
The victims of the attack had been given mass burial and at the time of this report, security personnel were still seen around but the area was still tensed.
Meanwhile, this attack confirmed the claim by the District Head of Dong, Adagwom Azi Nyam who in tears said on Wednesday that Fulani herdsmen are occupying the sacked communities grazing their cows on peoples' farms and appealed to a coalition of women group under the aegis of Northern Nigeria Women Initiative who visited the area to comfort the displaced women to let the world know of their plight.
Leader of the women group, Dr. Jophia Gupar who addressed the displaced persons said the hospitality of the Plateau people should not be taken for granted and called on government at all levels to fight the menace of herders' attacks and other forms of crimes in the country.
The women gave a token ranging from cash to toiletries, blankets, clothing and provisions to the displaced person and the Community Women Leader, Esther Samuel who received the gifts appreciated the donors and assured they will share them as they need such to cater for their needs as their houses were burnt and their sources of livelihood destroyed.