By Kingsley Adegboye, Victor Ahiuma-Young, Evelyn Usman & Olasunkanmi Akoni
Tanker drivers seen on gridlock trapped, says NUPENG
In a brazen display of disregard for constituted authority, truck and tanker drivers , took over the entire Oshodi/Apapa express way, denying  other motorists  access.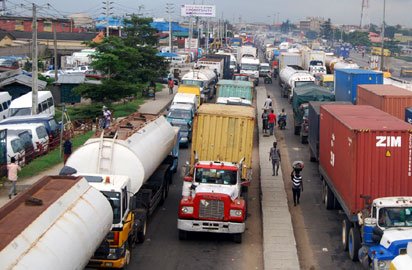 The gridlock on the route which seemed to have abated for about a week, owing to the directive by the Navy for trucks to vacate all bridges in state, returned yesterday, thereby throwing motorists into another round of horrific experience.
Both sides of the major  express-way were over taken by the articulated vehicles. The service lanes were not also spared. Motorists whose offices are located along the axis were forced to park their vehicles, after spending over four hours at a spot. Motorbikes on the other hand, were the only alternative of transportation. However, management staff of some of the companies along the route, who could not take motorbikes, trekked from Coker bus-stop to  their respective offices. However, those who were stuck in between trucks resigned themselves  to fate.
Vanguard staff were not spared either , most of them were trapped in traffic for several hours. It took two hours to travel from Second Rainbow bus stop to Berger yard, from where they would divert to Vanguard's corporate office. .Lamenting the situation, a motorist, Mr Chimezie Nwoke ,  told Vanguard  that he spent  spent over two hours from  Coker Bust stop, to otto Wharf , a journey that would ordinarily should have tajken less than five minuites.
Wondering why the defiant truck drivers should call the Navy's directive bluff, he said " the situation has led to breakdown of law and order as motorists, particularly, commercial buses, popularly called, "Danfo" have resorted to driving against  traffic. Even at that , they have to turn at second rainbow when they discovered that the road was blocked."
This apparent disregard to traffic order, came irrespective of Lagos State Governor, Akinwunmi Ambode's directive to Joint Security Task Force to ensure free flow of traffic in Apapa and environs.
As part of pragmatic step to restore total breakdown of law and order due to activities of tankers and operators of containerized trucks, Governor Ambode, had early this year, directed heads of security formations in the State to immediately deploy adequate personnel to tackle the Apapa gridlock and other security threats in the axis.
The governor, ordered the reconstitution of the Joint Security Taskforce established to resolve and manage the chaotic traffic situation in the area.
The task force which is made up of: Police, military, officials of Lagos State Traffic Management Authority, LASTMA and the Federal Road Safety Corps, FRSC, apparently, seemed to be overwhelmed as they watched drivers drove dangerously on the road.
Ambode had often said the only permanent solution to the gridlock is seamless port operations.
While responding to concerns raised by the business community on the negative effects the chaotic situation in Apapa was having on their businesses at forum, the Governor said call-up system for tankers and containerized trucks must be structured to eliminate the present chaos, while issuance of licenses for more tank farms in the axis must be put on hold.
However, when the Commander, Nigerian Navy Ship , NNS Beecroft, Commodore Okon Eyo was contacted, he expressed surprise at the information, disclosing that he was at the Iganmu end , monitoring the enforcement of  Navy directive to truck drivers to vacate Lagos bridges.
He revealed that trucks that were turned back from the Iganmu and Ojuelegba ends, were the ones flooding the Oshodi express-way, in a bid to access the port.
According to him: " The project has not failed. Rather, it has improved. We have been making huge progress everyday. Right now, we don't allow trucks which do not have any business with the port to be on the queue, we send them back. But in the drivers desperation, they detour and take through Oshodi .  We don't really have enough  man power  to take care of that area(Oshodi-Apapa expressway)  but  we are trying to address the situation  from Liver pool end.
"We held a meeting with management of the Nigerian Ports Authority ,NPA yesterday.They(NPA)  are working on measures to fast track the way trailers come into the ports. We are also  talking with owners of tank farms to take in trucks coming to their tank farms, from where they will be loaded and leave thereafter.
NPA is also making arrangement with shipping  agencies to make holding bays available to tankers. That is in the pipeline ,and from there, we can begin to work on a plan to release tankers to come into  the ports. By the time  this is done, it will reflect everywhere.
Tanker drivers seen on gridlock trapped, says NUPENG
Lagos Zonal Chairman of Nigeria Union of Petroleum and Natural Gas Workers, NUPENG, Comrade Tayo Aboyeji, said Tanker Drivers seen on Lagos roads especially on traffic or gridlock, did not park, but trapped on their ways to lift products from tank farms.
According to him, "Most fuel depots outside Lagos are in full operations so tanker drivers have no reason to come to Lagos. Those that are loading in Lagos and its environs, if you go to Ogere along Ibadan Expressway in Ogun State, you will see them park there waiting for calls for them to come and load. However, the problem is that as they get to Lagos, on their way to the tank farms, they are trapped because of the activities of articulated trucks going to the ports. Our members are just victims of the congestion on the roads to the tank farms.
"The problem can only be solved if the ports in Lagos are de-congested. It is not about bad roads, it is purely about the volume of traffic going and coming out of the ports. If and when the roads are fixed, and the ports are not decongested, the gridlock will continue. Government should ensure that other ports in the country such as Calabar, Onne, Port Harcourt and Warri are patronized by diverting ships to them. If government does not address the volume of traffic to Lagos ports, the gridlock will remain irrespective of ad-hoc and other fire brigade approaches.  So, nobody should blame the tanker drivers. They are not the cause of the gridlock. Like I said, those you see on the traffic or gridlock are simply trapped on their way to the tank farms to lift products."